When I was a kid,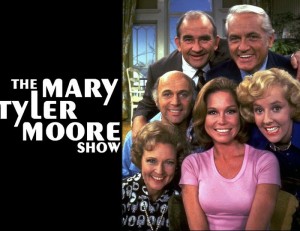 I loved the Mary Tyler Moore Show.    I was too young to watch it when it aired during prime time, so I got my fix in syndication.  I had such a girl crush on Mary Richards, who was played by the spectacular Mary Tyler Moore.  I also really dug her clothes.  I've always believed that I was a 1970's Boho chic (and this was recently confirmed by a quiz on Play Buzz).  I coveted both her apartments, but over the years I've gone back and forth on which Mary-apartment combo I loved best.  Long-haired-brunette-studio-apartment-in-a-house Mary, or the reddish-bobbed-haircut-high-rise-apartment Mary?  I thought it was so cool that she worked in a newsroom.  I adored the father-daughter relationship she had with Mr. Grant – um, that was until I grew up and realized that there was some serious sexual chemistry going on between them.  Personally, I don't see it, but hey, most people are baffled by my attraction to Kid Rock.  To each his (or her) own.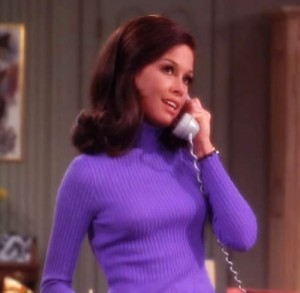 Early Mary – love this look!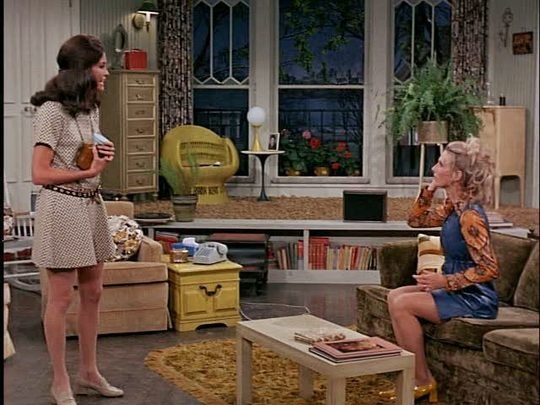 The studio apartment, in Phyllis's house.  LOVE the little hidden away bookshelf.
I could go on and on about this classic show.  The MTM Show won twenty-nine Emmy Awards over its seven seasons – twenty-nine!  Only Frasier has ever beaten that record (with thirty Emmy wins).  The Writers Guild of America ranked it as the sixth best written television series ever – ever people!  The cast was extraordinary.  Three of the characters were spun off in their own television shows (Rhoda, Phyllis and Lou Grant).  Each of the actors who played main characters continued on with outstanding careers after the series ended.  So, if you're not familiar with the show I highly recommend that you buy the DVD set, because you'll laugh yourself silly (especially the hilariously brilliant Chuckles Bites the Dust episode).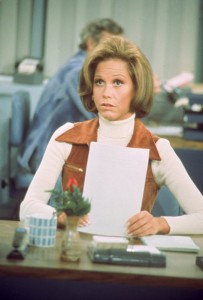 Mary with a new look.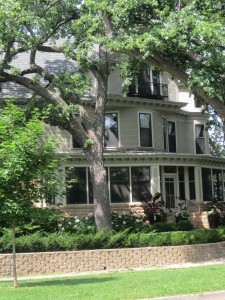 The MTM house, summer of 2012 (I had to sneak this shot – it's a private home, with No Parking signs everywhere!).
I'm stepping off of the Mary Tyler Moore Show soap box, and switching gears to tell you how it inspired the dreams of a little girl – ME!  As a child watching Mary Richards, I wanted to grow up and be Mary Richards.  I fantasied about a cool apartment, a huge fashionable wardrobe, a gang of eligible bachelors asking me out and having a best friend like Rhoda Morgenstern.   I also stole some of my dreams from Rhoda.  When I wasn't planning a future in television broadcasting, I had visions of decorating department store windows.  I even hung colored yarn from my bedroom doorway, in an attempt to emulate the beads in Rhoda's apartment.  Sadly, the yarn didn't have the same cache.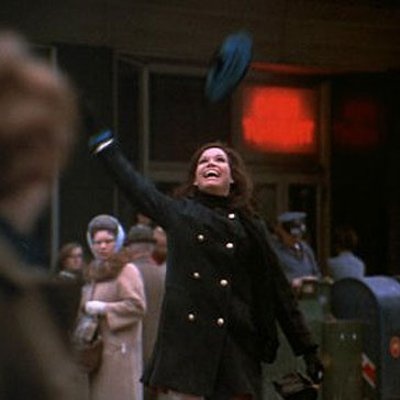 My mother had a background in fashion merchandising and she actively campaigned against the window dressing gig.  Eventually I saw the light and focused on the news.  I'm sort of a news junkie and so were my parents.  At some point I took one of those career aptitude tests and broadcasting landed in the top ten.  I knew it!  Being Mary was my destiny.  Only problem was, I was an extremely shy teenager.  There was no way that I'd get in front of a camera, but as a producer, I was in.
I took my childhood dream as far as my freshman year of college.  I attended Loyola University in New Orleans because they had a reputable Communications department and a TV station on campus.  Adding to the school's appeal was that it was in New Orleans, a big and exciting city like Minneapolis.  I was ready to turn the world on with my smile.
A funny thing happened to me on the way to the WJM Six O'Clock News – I got scared.  Some unfortunate events took place in my family while I was away at school and I began to worry about my future and financial security.  I was also very intimidated by all the public speaking that was required in the Communications program.  I wasn't a fan of standing up in front of a crowd.  Before the year was over, I'd transferred to the Business School.  By my sophomore year, life in the big city proved difficult, and I was back home and going to a local college for a few years.  And the rest, as they say, is history.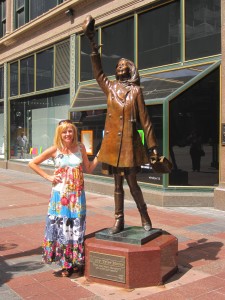 Posing with my girl, in Minneapolis – summer 2014.
Do I have regrets?  Yes and no.  I know that I'm right where I'm supposed to be, because love is all around me and I don't waste it.  A part of me does regret the years I wasted forcing myself to study and work in accounting (even though I know the skills and experience are valuable).  And I do sometimes wonder what would have happened if I'd stuck it out.  But at the end of the day, I think I have a better life, a prettier home and a more loving family than Miss Mary Richards.  Also, my wardrobe really kicks ass!
Side bar:  I did make it to the newsroom, eventually.  My last professional job (in accounting) was at CNN, in Atlanta's CNN Center, and my office was on the same floor as the news room!  I walked through it every day.  Six degrees of Mary Tyler Moore.  In the end, I did make it after all.  Well, sort of…
This post was inspired by Finish the Sentence Friday.  This week's sentence was, "When I was a kid, I really believed that…"  Be sure to check out their posts, by clicking on the links.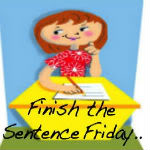 What did

you

believe when you were a kid?  Did you watch the May Tyler Moore Show?  Did you have any TV idols?