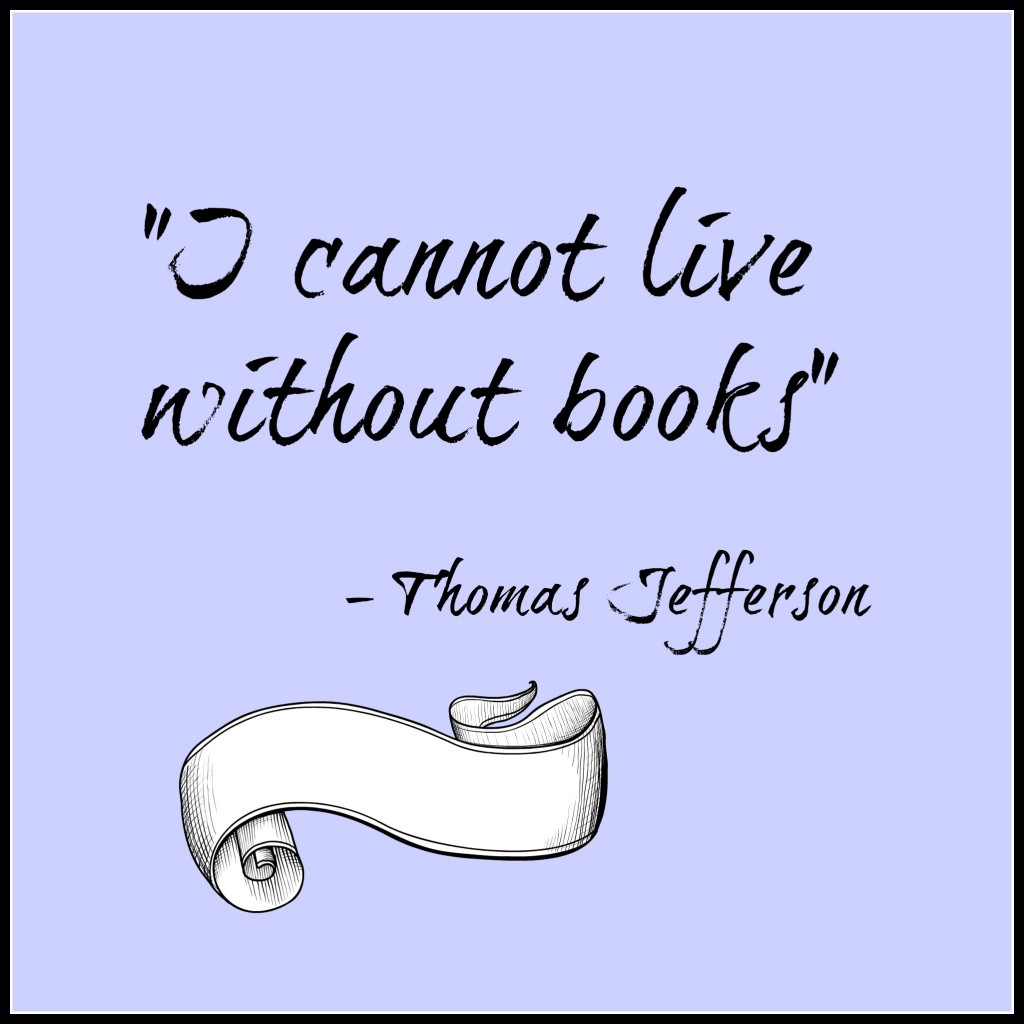 By now, I'm certain that you're bored by all of the "best books of 2015" posts. There seem to be a lot of them this year (or I'm friends with more bloggers than I was last year). This is the fourth year I've compiled my list – and I don't label my choices as the BEST, because it's obviously subjective. I haven't read every book published this year. My reading tastes are varied, but my favorite reads tend to be women's fiction, which some literary readers poo-poo. I'm more than willing to go down the rabbit hole of war, famine, disease, and grief for the sake of a good story, but for the most part, I like to spend my time in the Shangri-La of happily ever-after. But I also love inspiring nonfiction, American history, and funny and interesting memoirs of people whom I admire or are curious about.
How I Read:
I read or listened to 115 books this year. That's a pretty big number. Before you get all, "How does she do it?," I have to share a statistic of which I'm not really proud. Each year, I download my "books read" from Goodreads into an Excel spreadsheet (remember I'm a former CPA) and play with the numbers. I break it all down, and one number really stood out this year – the number of books I listened to on audio. I only read thirty-five books (7 of which were ebooks) this year. Thirty-five. I listened to eighty unabridged audio books. I'm somewhat embarrassed by this. I'm not sure I can really call myself an avid reader with numbers like that. What do you think? Thirty-five books isn't even a book a week – shameful. Ugh. That's one of my 2016 reading goals. I must read at least 52 books.  For the sake of continuity, I will be using the verb read, rather than listened, throughout this post.
I reviewed sixteen books this year, most of them for Chick Lit Plus. The reviewed books that made my list contain links to the review. The number of books that I didn't finish went down from last year, there were only nine books that I couldn't bring myself to read to the last page.
Who I Read:
I'm loyal to my favorite authors, but I also love discovering new writers. I read sixty-eight books by writers who were new to me and thirty-five of those were debut authors. I didn't become obsessed with any one author like I did last year with Sarah Jio (I read five of her books in 2014), but I did read three Elin Hildebrand novels this year. And two books each from these authors: Amy Korman, Brene Brown, Beatriz Williams, Cheryl Strayed, Jane Green, Jane Porter, Jen Lancaster, Jonathan Tropper, and Susan Meissner.
How I Rate:
It was hard for me to pick my favorites this year. Another discovery in the analysis of my reading statistics is that I'm loose and fast with a five star rating. It seems that I'm easy to please – not sure if that's good or bad. I awarded thirty-nine five-star ratings last year! Relax, I promise, my list doesn't contain thirty-nine books. Um, there are twenty, and trust me – it was really hard to cut the list down. Eighty-two times, my rating was higher than the Goodreads average. At that rate, I should be on every book publisher's reviewer list! My greatest deviation from the average was 2.09, for The War of Art. Probably shouldn't publically admit this, but I didn't get that book at all (but I did finish it, lol)!
What I Read:
Once again, my choices were fairly split between fiction and nonfiction, with 64 novels (56%) and 51 nonfiction books (44%).
My top three genres were:
Women's Fiction – 27 books
Memoir/Biography – 19 books
Historical Fiction – 14 books
This is the first year that Chick Lit (13 books) didn't make the top three. I must be growing up.
Enough with the number crunching! Here are my favorites, separated into fiction and nonfiction, listed alphabetically, some honorable mentions, and my annual superlatives.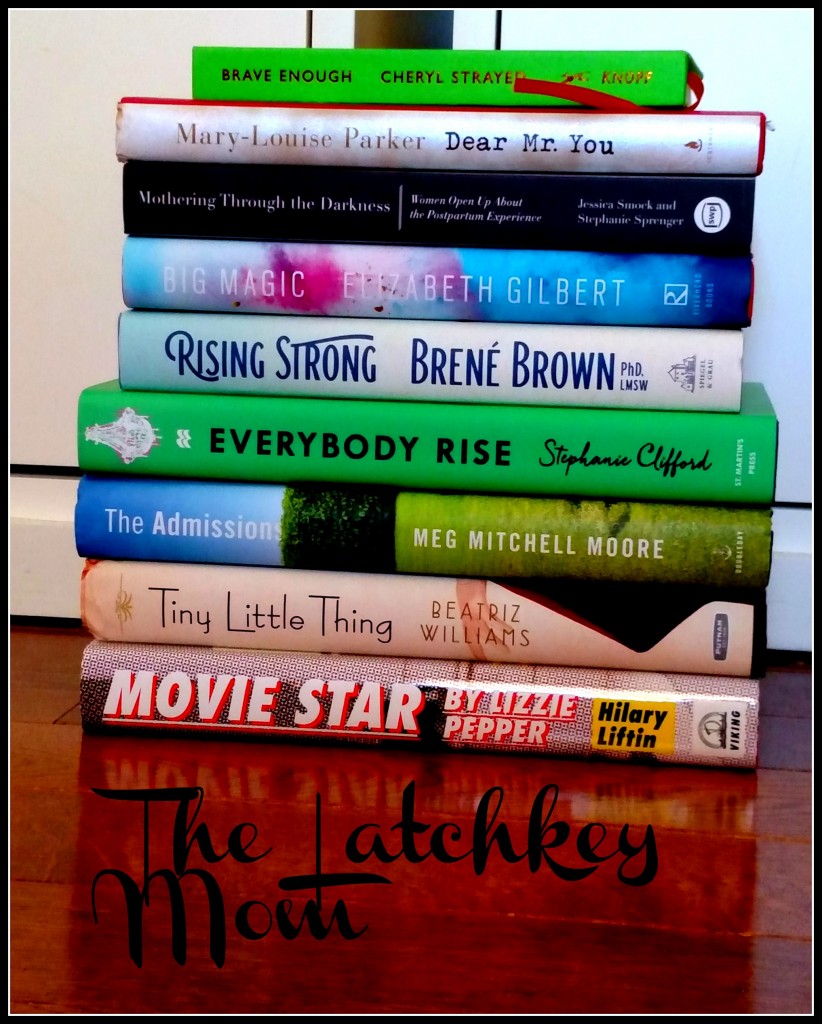 Fiction: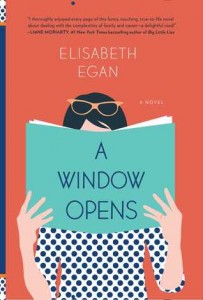 A Window Opens by Elisabeth Egan. This novel is about Alice – wife, mother, daughter, book editor. When Alice's husband leaves his big corporate law firm and strikes out on his own, she must return to the work full time. Unable to find a job in the ever-changing magazine world, Alice lands a position at a tech company that more or less wants to do away with bookstores. Alice loves books and her best friend owns a bookstore. Her position causes a rift in their friendship, and all the hours required by the millennium generation run company causes strain on her marriage. The story will resonate with any working mom, but what makes this book special is the writing, which is exquisite. I also appreciated how the author interwove a familiar subplot involving Alice's parents – and that her husband wasn't painted as the one-dimensional selfish ogre who's going through a midlife crisis. There are no bad guys here, just people trying their best to do the right thing.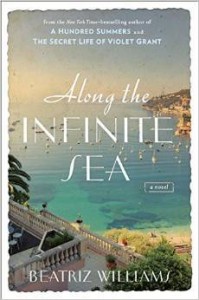 Along the Infinite Sea by Beatriz Williams. Disclaimer, Beatriz Williams is my favorite author and I love all her books. She had a big year with two hardcover books published in 2015, which wrapped up her Schuyler sisters' trilogy. I will miss these ladies. Infinite Sea is the final chapter and answers many questions from Tiny Little Thing (which also deserves to be on this list, but I have a rule about including an author just once). What makes this the better book (imo) is the storyline that involves Annabelle Dommerich and her riveting WWII tale (half the book takes place in "present day," which is 1966) involving her marriage to a Nazi General and her love for a married German Jew. There are some war scenes that are tough to read, but I was too invested to close my eyes. This is a beautiful and heartbreaking story of what we'll do for love and country.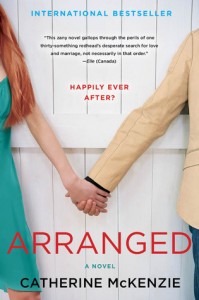 Arranged by Catherine McKenzie. Anne Blyth is a writer with her first novel about to be published. With her professional life at an all-time high, Anne turns her focus to her personal life, and the fact that she has no one with whom to celebrate her success. Then she remembers the business card she slipped into her pocket for a dating service. Only the dating service actually takes things a step further – they arrange marriages. Their sales pitch is quite convincing and since she hasn't had much luck picking a mate on her own – what has she got to lose? Soon Anne finds herself at a luxurious Mexican resort where she meets her future husband, whom she will marry in forty-eight hours. Jack, her perspective groom, appears to be a good match – but is he really? The twist was a surprise and I and loved all the questions about what makes someone your soulmate and how timing plays a huge role.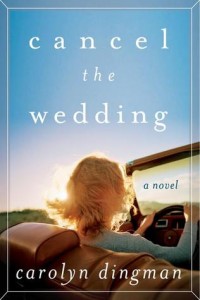 Cancel the Wedding by Carolyn Dingman. As a women who lost her own mother and discovered all her secrets after she passed, I was riveted by this book. Don't let the title fool you. This book has little to do with the wedding Olivia keeps postponing and everything to do with her grief over the death of her mother, Janie. Her grief, and Janie's wish to have her ashes sprinkled over a lake in her hometown in Georgia, compel Olivia to learn more about her mother's past. With the help of a local newspaperman, Olivia slowly puts the pieces of her mother's life together. You'll need Kleenex! And the mystery of the lake is so intriguing. I became obsessed with finding out whether or not the facts in the story about the lake were true. The story takes place in an area of Georgia that's not far from where I live. Writing this reminds me that I never did find out. I now have another goal for 2016.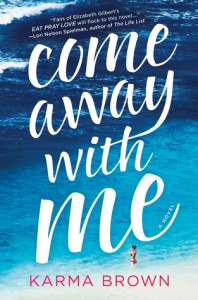 Come Away with Me by Karma Brown. What a sad story – and yet there's a beauty to it as well. I don't like sad books, but I loved this one. The book, by a debut author no less, is rich with vivid imagery and palpable emotion. It's a tough read my friends, about a couple, Teagan and Gabe, who are grieving the loss of their unborn child. Teagan harbors a lot of anger toward Gabe, and he's desperate to save their marriage. Gabe decides they should take the trip of a lifetime, in an attempt to escape their grief and recapture the magic they once shared as a couple. That's all I can write without giving too much away. But trust me, this book is worth the emotional cost.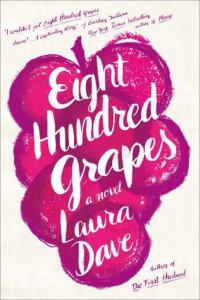 Eight Hundred Grapes by Laura Dave. Georgia Ford is a successful Los Angeles attorney who discovers a week before her wedding that her fiancé has been keeping a huge secret. After the shocking revelation, Georgia returns home to her family's vineyard in Sonoma, to seek comfort and advice from her loved ones. The problem is, her family has also been keeping a few secrets from her so as to not spoil her wedding. The family is basically in a state of crisis and now that Georgia may cancel her wedding – all bets are off. It's like the blind leading the blind in wine country (and add some wine and, well, you can imagine). Dave's attention to detail – from setting, character traits, and the history of wine making made me feel as though I was picking grapes with the Ford family at the harvest. Dave's talent as a writer is evident in the fact that she can explain the science behind winemaking and you won't be bored. This is more than a book about wine, I promise. It's the story of a family full of dysfunction, and yet you won't lose hope because of their love for and loyalty to each other.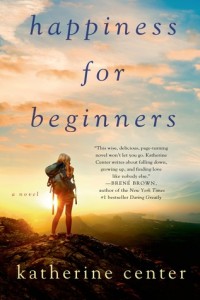 Happiness is for Beginners by Katherine Center. No, this is not an Oprah self-help book, although it contains all kinds of stuff about positive psychology and touchy-feely Buddhism. The heroine of this novel, Helen, is in dire need of some happiness. Divorced for two years, she's still having trouble getting her life back in order. Her younger brother decides he has just the thing for her – an Outward Bound-like wilderness trip to Wyoming and his best friend, Josh, decides to join. There are many "out there" people in this book, but they all have something to teach Helen. After Josh reveals what has led him to embark on this adventure, Helen manages to pull herself out of her self-pity spiral. Just in time, because the wilderness has much more to teach Helen about bravery and happiness.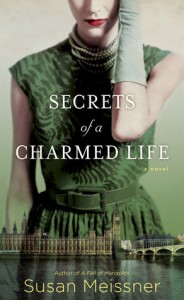 Secrets of a Charmed Life by Susan Meissmer. This author crafts her stories in a manner similar to Sarah Jio, blending the present day with the past. In this book, Kendra is an American scholar who gets the opportunity to interview a reclusive artist for her thesis. The artist, Isobel, is a survivor of the WWII German blitz of London. She proceeds to tell Kendra a heartbreaking tale about two young sisters who were separated in the bombing, never to see each other again. Kendra makes it her mission to find out what happened to the younger sister, Julia. The question of what happened to Julia is central to the book, but the mysteries of fate and providence are what kept me enthralled. Are the consequences of our actions beyond our control? This is a story about coming of age at a time when the world was falling apart, the lengths one goes to for survival, and a young girl's quest for redemption. Review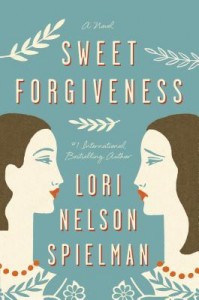 Sweet Forgiveness by Lori Nelson Spielman. Hannah Pharr is a New Orleans celebrity. She hosts a local TV show and is the mayor's girlfriend. Hannah's carefully cultivated the perfect image, yet under her placid facade simmers a great deal of anger and guilt. After she receives some "forgive stones" from the girl who bullied her in high school, all of Hannah's emotions bubble to the surface. The concept of the forgiveness stones is brilliant and this was one of the most cleverly plotted books I've read recently. Hannah's big problem isn't granting forgiveness, but asking for it. The theme of forgiveness resonated with me, because I've personally struggled with it, yet I understand the healing power that it has. The portrayal of the television news industry made me appreciate the fact that I don't work in broadcasting. Review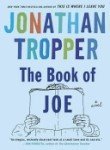 The Book of Joe by Jonathon Tropper. So I was late to the Tropper bandwagon. The first book I read of his was This is Where I Leave You (last year), and I became a fan and have slowly been catching up on his backlist. The Book of Joe is about, duh, Joe, who returns to his hometown a few years after writing a scathing book about the town – and the people who live there. Suffice it to say, he ain't too popular. And his family is a hot mess. And nobody does sarcasm better than this author. Tropper deftly finds the perfect balance between the ridiculous and the mundane. He's always very entertaining.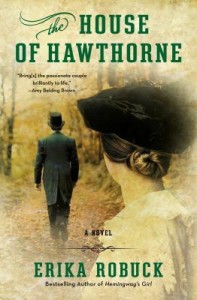 The House of Hawthorne by Erika Robuck. This fictional account of the marriage of Nathanial Hawthorne and his wife Sophia was a pleasant surprise. Robuck writes with lyrical prose and easily transports the reader back in time with her narrative. Her intimate characterization of and dialogue between Nathanial and Sophia brings them to life in a way that enabled me to relate to them as if they lived right next door. Throughout their marriage they had to deal with family strife, money troubles, heath concerns, addiction, professional jealousy, a country at war, and political disagreements with family and friends. All modern world problems. As with any historical fiction, the reader may wonder which aspects of the story are true and which are made up. Interestingly, with this novel I didn't indulge in too many what-ifs and felt little compulsion to do additional research. The author told their story so eloquently and succinctly that I'm satisfied. I enjoyed Nathanial and Sophia immensely and the only thing I wish I could change is the number of years they had together. Review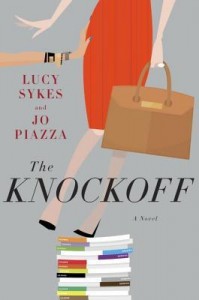 The Knockoff by Lucy Sykes and Jo Piazza. This may have been the most fun I had reading a book this year. Set in the New York magazine world, Imogen Tata is the Editor in Chief of Glossy magazine. Imogen returns to work after a six month medical leave, to find Eve, her younger former assistant, sitting at her desk. Eve was hired by the publisher to bring Glossy into the digital age. Imogen is technology challenged, and quickly feels like a dinosaur. The career she loved has changed so drastically that Imogen's no longer sure if she has what it takes. And her children need her. This book was one of two I read that were set in magazine publishing and I was enthralled by the inside look at the ever evolving industry (the book is written by two former magazine writers). I love magazines, and feel sad when I hear of another one folding. But the story is full of hope, too. The subplot about the emerging "App Industry" was fascinating and honestly, I got excited about some of the possibilities. As much as my generation may roll our eyes at Millennials – there's no denying that they're very creative and inventive. And these exciting developments may just give Imogen a second chance. This is a funny, clever, and empowering read. Don't count us dinosaurs Generation Xers out just yet!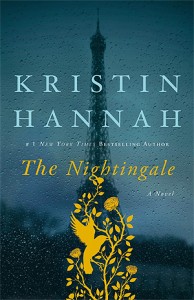 The Nightingale by Kristin Hannah. I should have known better. I really should have. Once upon a time I read a book by this author that everyone loved. It was called Firefly Lane and it sucker punched me and I almost threw the book out of a moving car (I was in the passenger seat). Hannah did it to me again. Set in World War II France, this is the story of two sisters who have a complicated relationship. Vivienne married young, had a child, and has to send her husband off to war. Her village is occupied by Nazis and she and her young daughter are forced to house one of the Nazi generals. Her younger sister, Isabelle, joins the French resistance and smuggles Jews to freedom over the mountains into Spain. The book is brutal, horrifying, and heartbreaking. I sobbed as I finished reading it in a Chicago hotel room while on a family road trip. I scared my kids. Why is it a favorite? I don't know. The book haunts me. Still.
T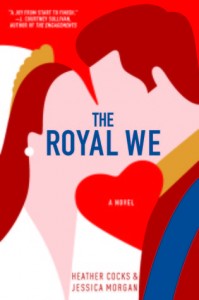 he Royal We by Heather Cocks and Jessica Morgan. Okay, so this was the most fun I had with a book about a couple. I LOVED this book. It is a fictional account of the love story of Prince William and Kate Middleton. I don't know their whole real story, so I don't know how much of this is true and I don't care. It is superb. Funny, so funny. I loved Bex and Prince Nicholas (Nick), which is ironic because I have no feelings whatsoever for their real-life counterparts. Adding to the fun is a really racy twist that I'm pretty certain must be false. It has to be, right? The royal family in this book is hilarious – especially Nick's brother Freddie. I was really anxious at the end of the book, because it's not a traditional happily-ever-after, and compliments to the writers that I really thought they were going to rewrite history. And the ending is such that there can be a sequel – and I hope there is!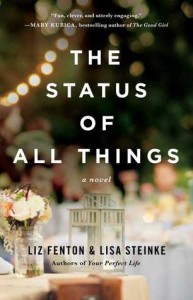 The Status of All Things by Liz Fenton and Lisa Steinke. I was delighted by this tale of a woman who basically lives her life for the sake of appearances – appearances that are carefully crafted for the sake of social media. We all know people like this don't we? And we're all probably guilty of it from time to time. Kate's so obsessed with social media that it causes her fiancé, Max, to call off their wedding the day before the ceremony. Kate's devastated. Even though I felt sorry for her, I kept wondering if her heart was really broken or if she was embarrassed to update her status to "jilted." Turns out she didn't have to – because the next day she woke up with the ability to write status updates that came true! Kate sees her opportunity to get Max back, but she wants it to be his choice. So she decides to use Facebook to travel back in time and fix things. She also helps friends and family by making their lives better with her new power. Oh girlfriend, by now you should know that curating your life and messing with fate will get you into trouble!
Nonfiction: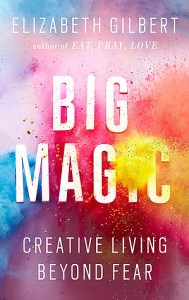 Big Magic: Creative Living Beyond Fear by Elizabeth Gilbert.  What more can I say about this book? Every blogger and writer whose "Best of" lists I've read included this Holy Grail for writers. I read and listened to this book. Gilbert's voice is so comforting and encouraging and I kept having to pause the audio to soak in her wisdom. And then I knew I had to buy the book so I could read and highlight passage after passage. And I can't tell you how often I've returned to her words when I'm feeling lost on the page.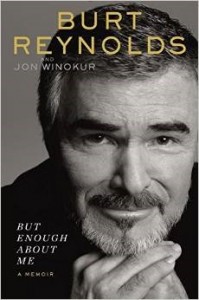 But Enough About Me: A Memoir by Burt Reynolds. I know, right? Burt Reynolds. I'm serious, this is a really good book. The book's format was unusual, but it worked. Each chapter is about a different person or movie topic (directors, actors, stuntmen). For the most part, he's extraordinarily gracious about his friends and family and is obviously very loyal. He does settle a few scores, but mostly with class. Well, maybe not in his chapter about Loni Anderson. He said a few shocking things, but nowhere near the amount of dirt I recall being thrown when they got divorced. He's humble, self-deprecating, and very funny. His love of football, acting, books, Florida, friends, and family is evident in his tributes. I listened to this book, and his voice cracked with emotion many times when talking about loved ones he lost, and looking back over his extraordinary career. His gratitude to those who stood by him in during some very tough times in the 1980s was endearing – and for those who didn't, shame on them.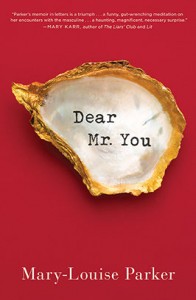 Dear Mr. You by Mary-Louise Parker. Oh, this memoir is exquisite. Parker's book is compiled of letters she wrote to the men in her life. With the exception of her father, grandfather, and childhood priest, she doesn't use names – so you don't really get the true scoop. In other words, Billy Crudup can rest easy. Although, I'm 99% certain I figured out which one is about Jeffery Dean Morgan and I don't like him anymore. This book is not a Hollywood tell-all and that's what makes it extraordinary. The lady is class. And she's a hell of a writer – her words are eloquently woven together. This book is raw, funny, brutally honest, heartbreaking, and hopeful. It's full of self-reflection and deprecation and wisdom. She's spiritual, yet wildly unconventional and I loved getting to know her. I listened to it in one day, and then stayed up late reading the letters I adored. "Dear Orderly" and "Dear Future Man Who Loves My Daughter" are favorites. And "Dear Oyster Picker" literally took my breath away – so lovely.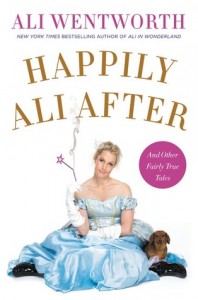 Happily Ali After: And Other Fairly True Tales by Ali Wentworth. Hands down, the funniest book I read last year. This woman is shameless and I would love to be a fly on the wall of her home for a couple of days. I cannot even imagine how her marriage to the stuffed-shirted George Stephanopoulos works. I just cannot imagine it. He must squirm when she announces that she's signed a new book contract. Seriously. Her tale about the workman who had his daily constitution in her apartment when he was working on a project at her home had me in tears – and I don't particularly care for potty humor. Oh – and the epic marital battle that ensued after Ali realized she didn't get passports for her children, just as they were checking in at the airport for their European family vacation – priceless. And that fight ended with a certain type of favor. I guess we know that Mr. Stephanopoulos is never going to run for office. Never.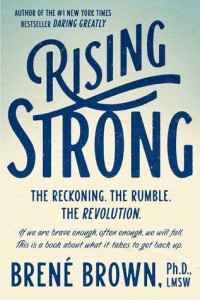 Rising Strong by Brene Brown. Another popular read among bloggers and writers, and for good reason. Brown's message about vulnerability and being brave is extremely empowering. If you dare greatly, you will fall down sometimes. Those of us who can pick ourselves up and dare again will succeed. We will! I believe that. Rising Strong baby! Oh, and the fight she had in her head with her husband as they were swimming across the lake? Hilarious and wow – yeah, I've done that. The fight in the head, not swimming across the lake.
Honorable Mentions, by Genre:
Chick Lit: Beach Town by Mary Kay Andrews
Diet/Health: The Whole 30: The Official 30-day Guide to Total Health and Food freedom by Melissa & Dallas Hartwig
Historical Fiction: Tiny Little Thing by Beatriz Williams
History: The Residence: Inside the Private World of the White House by Kate Andersen Brower
Literary Fiction: The only one I read that earned an Allie 5 star was Tropper's book. But remember who you're dealing with here.
Memoir: The Road to Happiness is Always Under Construction by Linda Gray (This was to be included in this year's favorites, but got bumped at the last minute when I finished Dear Mr. You. Sorry Linda! It's a fabulous book!)
Parenting: Mothering Through the Darkness edited by Jessica Smock & Stephanie Sprenger – and featuring an essay by yours truly!
Romance: The Coincidence of Coconut Cake by Amy E. Reichert
Self-Help: 10% Happier: How I Tamed the Voice in My Head, Reduced Stress Without Losing My Edge, and Found Self-Help That Actually Works by Dan Harris
Thriller: Girl on a Train by Paula Hawkins
Women's Fiction: The Idea of Love by Pattie Callahan Henry and It's You by Jane Porter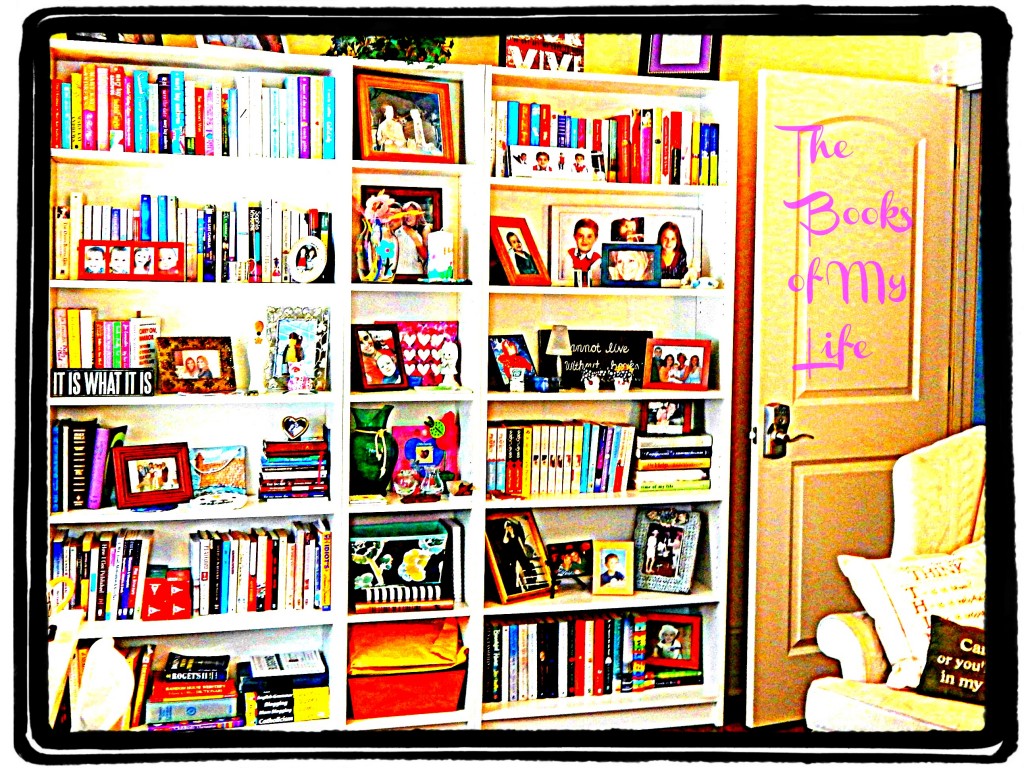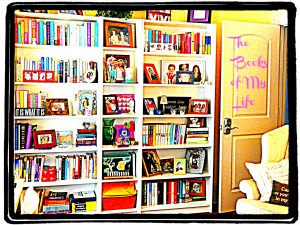 My Random Superlatives:
Best Female Character: A tie: Imogen Tate from The Knock-Off and Annabelle Dommerich from Along the Infinite Sea.
Best Male Character: I struggled with this one, I didn't have any literary crushes this year.
Best Title: Happily Ali After by Ali Wentworth
Dumbest Title: Movie Star by Lizzie Pepper, A Novel by Hilary Liftin
Favorite Book Cover: Along the Infinite Sea & The Road To Happiness – that hottie on the cover is 72 years old!
Biggest Let Down: After You by JoJo Moyes. Not a bad book, but nowhere near as good as Me Before You. And My Life on the Road by Gloria Steinem – not a book about a road trip, more of a political diatribe.
Most Over Rated: The Rocks by Peter Nichols
Oldest Book Read: A Movable Feast by Ernest Hemmingway, published in 1964.
Number of books read that were published in 2015: 70! Not bad, finally catching up on my backlog in the "to read" pile!
Most Read Publisher: I know, who cares? But I have the data, so I'm going with it. I read eight books published by Simon and Schuster. Forty-seven of my books (41%) were published by companies that are considered the Mack daddy's of NYC publishing. That means 59% percent were smaller houses (which I guess could be owned by the big boys), independent publishers, or self-published.
Book That Made Me Feel as Though I was the Odd Girl Out: All the Light We Cannot See by Anthony Doerr. Talk about feeling like you're the dumbest blogger on the block. All the accolades and the awards and the gushing, but I just couldn't finish this. After the young Nazi soldiers kept bullying the weaker boy during training and then defecated in his bad – I was out.
Biggest Surprise: The plot twist in Come Away with Me. Oh! My.God.
Sauciest Revelation: Everything in Movie Star by Lizzie Pepper. I'm telling you, and I'm willing to bet my kid's college funds that this book was actually written by Katie Holmes. Hilary Liftin is a ghost writer for a handful of celebrity books – and I'm not buying that this is her first "novel."
Book That Made Me Laugh the Most: Happily Ali After – see above.
Book That Made Me Cry the Most: The Nightingale and Dear Mr. You – see above.
Book That Gave Me an Anxiety Attack: The Admissions by Meg Mitchell Moore. Oh, what kids have to do now to get into college. It's awful (the admissions process, not the book).
Book That Made Me Blush: I Take You by Eliza Kennedy. This was a sexy book. So much sex – but so funny. I didn't read Fifty Shades, but I don't think this is as explicit as that series. The main character, Lily, is so audacious! She loves her fiancé, but she also loves having sex with other men. Crazy. Sexual exploits aside, it's a really well written book, with fascinating characters and lots of humor.
Book I Didn't Think I'd Like, But Did: The House of Hawthorne – really did think it would put me to sleep, but it was a page turner.
Book I Have No Memory of Reading: Whatsoever – Small Victories by Anne Lamott. I love Anne Lamott! It's Anne Lamott! When I reviewed my spreadsheet, I couldn't recall anything about the book. How terrible is that?
Favorite Passages:
I know this is a long post, please forgive me, but I have three:
"We all get stuck in place on occasion. We all move backward sometimes. Every day we must make the decision to move in the direction of our intentions. Forward is the direction of real life." – From Brave Enough by Cheryl Strayed.
♠
"But now that the work is finished, and it was time for me to shift my attention to something new – something that would also, someday, be released as good enough. This is how I've always done it, and this is how I will keep doing it, so long as I am able.
Because that is the anthem of my people.
That is the Song of the Disciplined Half-Ass." – From Big Magic, by Elizabeth Gilbert.
♠
"…Then because he is the wizard of all fathers he asked me what I was doing, like that should have mattered. I said, well, okay, I'm standing in this really awesome bookstore. You'd love it, I said. He gave a sigh of longing and said, oh my, tell me, they have anything interesting? I said yeah, tons. I'll send you a book from here, how does that sound. He said that's wonderful, that's just tremendous, thank you sweetie. I told him I was sending him some candy too and he thanked me, said he'd be on the lookout for it, and then he said, tell me, what are you writing now? You working on anything? I said oh Daddy, just little things, I don't know, and he said okay, but listen to me
Just write, keep writing, promise me that you will." – From Dear Mr. You by Mary-Louise Parker
♠
Random Observations: New York City was the most popular setting, with eighteen books or memoirs set there (the New England area was second with nine). Twelve books were set in or about the entertainment industry and seven took place during World War II. Six of my books featured a road trip. The hot profession for main characters is being a writer – eleven books. For a girl who doesn't love thrillers (technically only read two), twenty-one of my fiction picks had an element of mystery to them. Hmmm…
Most Anticipated Books of 2016: The Swans of Fifth Avenue by Melanie Benjamin, The Ramblers by Aiden Donnelley Rowley, The Year We Turned Forty by Liz Fenton & Lisa Steinke, First Come Love by Emily Giffin, By the Numbers by Jen Lancaster, Eligible by Curtis Sittenfield, All the Single Ladies (nonfiction) by Rebecca Traister. Multiples Illuminated by Alison Lee and Megan Woolsey (featuring ME!), and A Certain Age by Beatriz Williams.
That's all she read… What were your favorite books last year? Who are you excited to read in 2016?