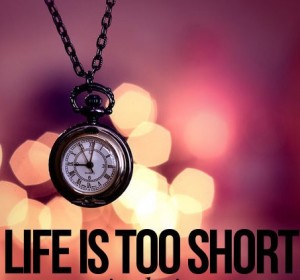 I've had a crazy week. My husband has been out of town, so I've been without back-up.  Adding to the mayhem was the start of my daughter's dance classes, a teacher conference that wasn't good and too many cross country practices.  But I've had an inspiring week, as well.  I completed my 10 Day Manifesto Adventure – and many thanks to Katie Den Ouden for providing the spark I needed. I'm also excited and nervous about leaving tomorrow for my first ever blogger conference.   All good stuff (well, except for the teacher conference).  Why am I telling you all of this?  Because I honestly haven't had the time to put my ALL into this post, but I still want to share it, because I love hooking up with my friends from Finish the Sentence Friday.  And life is too short to not do what you want to do!
Sadly, it's often the loss of a loved one or hearing upsetting news about somebody's health that reminds us that our time here on Earth is precious and brief. I hate that it takes sad events to remind me, because I should always be conscious of it.  I experience anxiety whenever I think about time passing too quickly and of course – aging, which I realize is a gift so many don't get.  As I look forward to another birthday, and accept that time certainly is flying, I've had some epiphanies:
Life is too short for drama.  I'd originally intended to write my whole post about this, but honestly, I was too scared write it.  Ultimately, such a topic would probably cause drama!  I have enough drama in the house, I don't need anyone else's – unless it's a matter of life or death.
Life is too short (and busy) to go without caffeine.  More specifically – coffee.  I love my coffee and I will never again give it up for a fast or cleanse.
Life is too short to read bad books, watch dumb shows or sit through a boring movie.  Seriously, if you don't like it – put it down, shut it off or walk out.  The exception is when you're reading for school, in which case you kind of have to finish the book.
Life is too short to waste opportunity.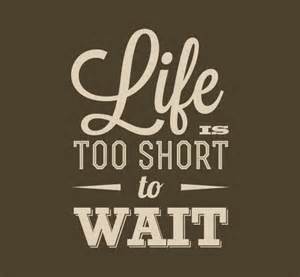 If you see a chance to get or do something you want – go for it!
Life is too short to spend it with people who don't lift you up.   As my late friend Terri used to say, if you're not on my team, get off the field!  I'm not kidding – buh-bye.
Life to too short to be afraid to say, "No."  Over-whelmed by volunteer requests?  Just say no.  A relative asking to "borrow" money again?  Just say no.  Constantly being asked to read or edit someone's work?  Just say no.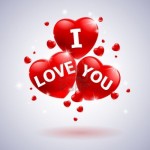 Life is too shot to not say, "I love you." Say it to everyone you love, and often.  No excuses.  I promise you'll regret it if you don't.  And conversely, I've never regretted saying it.
Life is too short to hold grudges. Yes, I know this one can be difficult.   But honestly, it's not worth the angst, especially over silly stuff.  For major grievances, you may need time to process your hurt or anger, but then let it go.  Remember, forgiveness is a gift – both for you and the recipient.
Life is too short not to indulge, at least once in a while.   There's so much I love that is, unfortunately, bad for me when consumed in excess.  Sugar, cheese, wine and the sun.  I can't over-do it, but every once in a while I get a little crazy.  And I don't beat myself up for it anymore.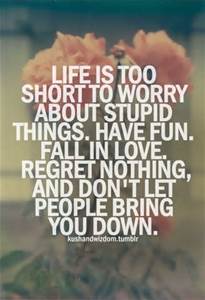 Life is too short to sweat the small stuff. This is a no brainer – and we all know it's true.
Life is too short to judge others. We're all guilty of it at times, but the older get, the less I care about what other people do.  As long as they're not hurting anyone or breaking the law – what do I care?
Life is too short to look away. If you do see something that isn't cool, please do the right thing!  Stand up for those who can't help themselves.
Life is too short to stay in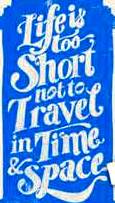 one place. Go exploring.  Seriously, go somewhere.  It's amazing how your perspective changes when you get out of a safe environment and expand your horizons.  A change of scenery is always good.  And it'll make you appreciate home all the more.
Life is too short to not realize that the grass is not always greener.  Learn to appreciate the blessings in your life.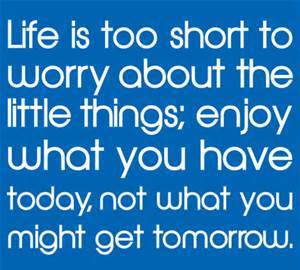 Life is too short to be selfish. Be generous with your time, money, patience and love!   Are you ready for some clichés?  Helping others feels good.  As for money and material goods – you can't take it with you when you're gone.  Patience is a virtue, yes, but it is also kindness and good for your health.  The more love you give, they more that comes back to you.
Life is too short to not stop and smell the roses (or tiptoe in the tulips). I'm going to quote Ferris Bueller, "Life moves pretty fast.  If you don't stop and look around once in a while, you could miss it."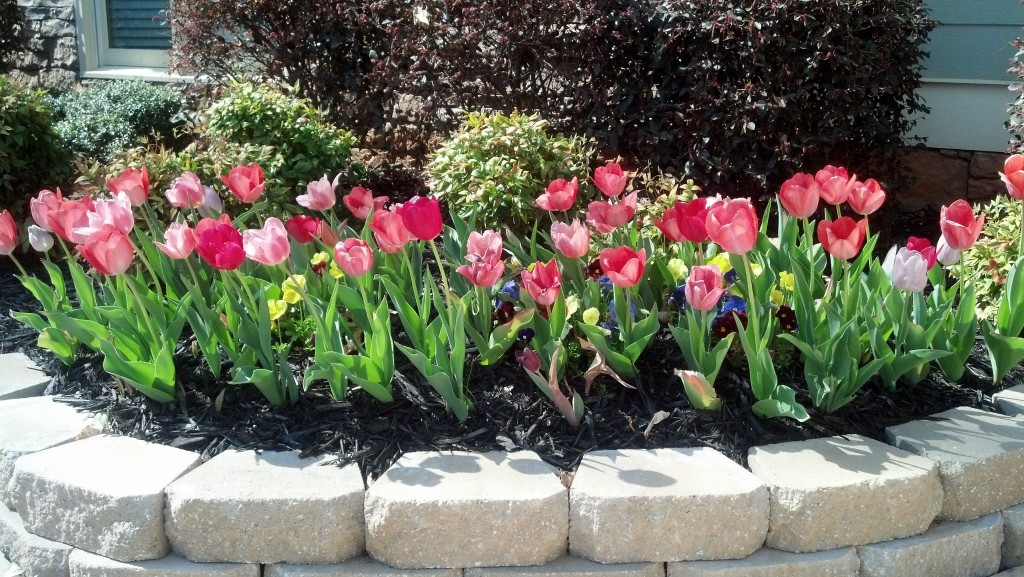 That's it, that's all I got. I'm sorry for the unoriginality, but I have to go pack now.  Wish me luck at the conference.  Check back next week, because I'll blog all about it.
Carpe Diem my friends!
This is a Finish the Sentence Friday link-up. This week's sentence is, "Life is too short to___."
Please visit our hosts:
Guest Hosts: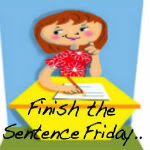 So tell me, what do you think life is too short for?