Have you ever been so stressed that you get to the point where you don't even care anymore? Presently, I'm beyond the point where I can feel my anxiety or stress. It's like I'm floating though the day in a bumper boat. I need to get to the other side of the pool, but I keep bumping into things that need to be done, and then I spin around in circles and go off in some other direction. For example, I have no business writing a post – but here I am.
How is it possible that tomorrow is my 16th wedding anniversary? Sixteen seems like a small number to me, given all that's happened in the last decade and a half. I put off making a dinner reservation for so long that our first choice restaurant was all booked, so I went with our second choice – and had to choose between a 6 p.m. reservation or 9:00 p.m. We'll be celebrating with an early bird special.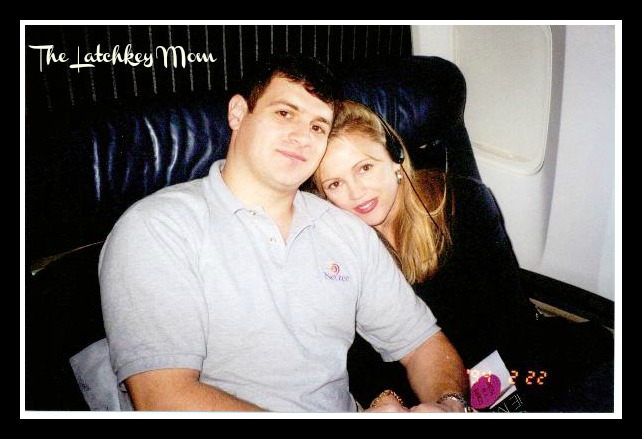 On the plane, leaving for our honeymoon.
How is it possible that my boys, Barrett & Hunter, will be fifteen in two weeks? Fifteen. Oh my God. And Christmas, according to Camden, is thirty-seven days away. Is that accurate? I have lost count – refusing to adjust the number on the Christmas countdown wall hanging I have in the kitchen. By not changing the number; I'm mentally giving myself more time. I've yet to buy a present. It'll all fall into place though, right? Right?!?! I mean, it has to – I'm the mom.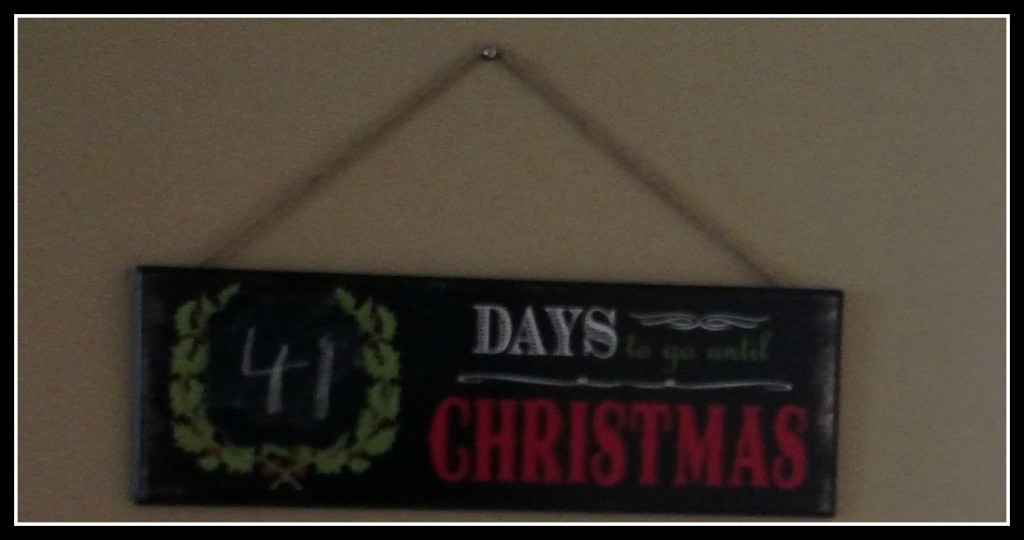 First I must get through Thanksgiving, which is in a week. I need to make a plan, and a menu, and a shopping list. I'm hoping to use next week to get my act together. Thanksgiving makes me think of my friend Michele, whose daughter is marching with her high school band in the Macy's Thanksgiving Day Parade. Mom's nervous, as I would be. I'm worried for her. I hate that something so big in a young girl's life is wrapped up in and marred by the turmoil of our world.
My kids have asked some heavy questions about Paris. I didn't know what to say, so I told them the truth. Unfortunately, I feel as though this is the world we're going to live in for quite some time. They should be prepared. It makes me sad. I took Aud and Cammy to see The Peanuts Movie last weekend (cute, btw). Aud tried to sit a few rows away from me, because she didn't like the seat I picked. She's been exercising her independence more and more lately, and I try to indulge her – but on that morning I couldn't. My instinct was to keep her close, in case someone came into the theater with a gun. That is what I thought about on a Sunday morning, in a theater, watching The Peanuts Movie.
Maudlin, right? Let me switch it up.
I'm reading Cheryl Strayed's Brave Enough and it's wonderful. I want to share a passage that I read, just when I needed it: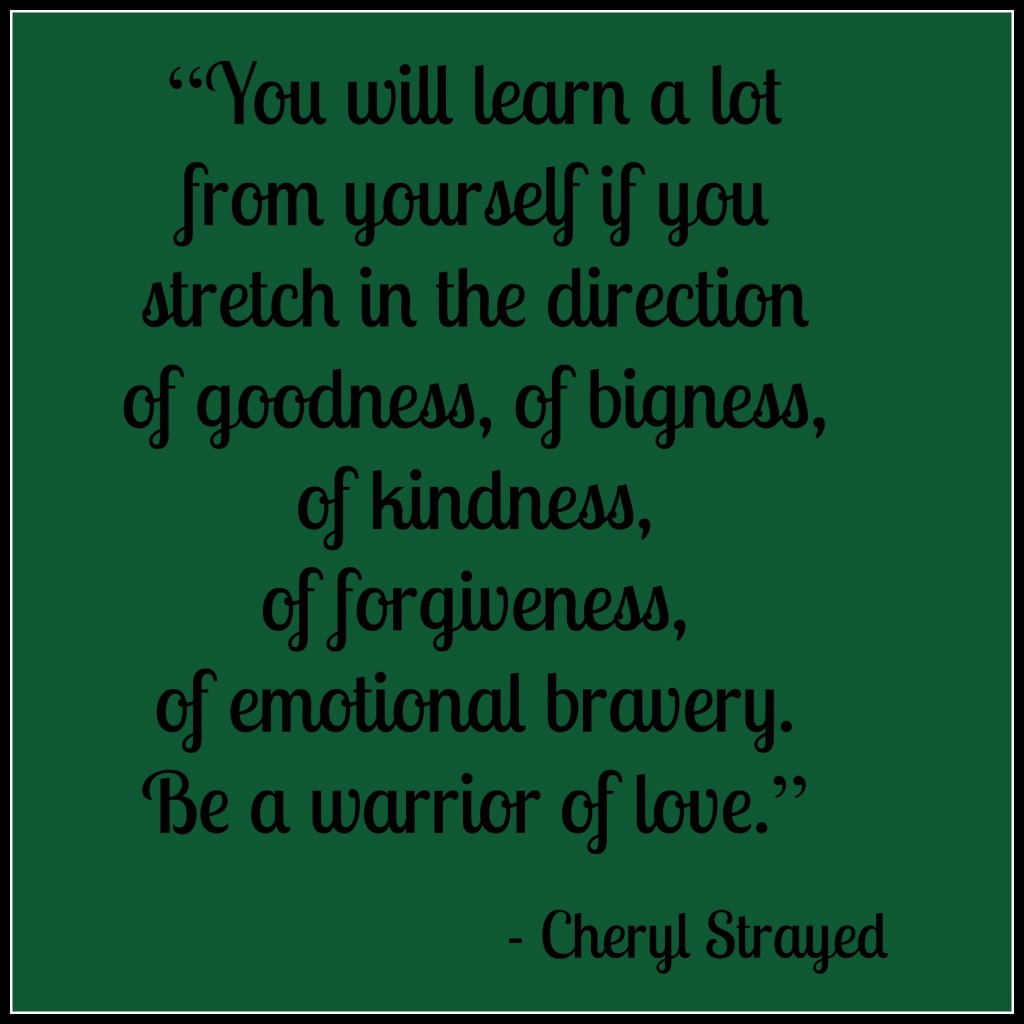 That is what we must do – be warriors of love!
Speaking of love….
How about this little wild and crazy obsession I've been having lately? I can't stop thinking about Blake Shelton and Gwen Stefani. I am a forty-six year old woman, and I'm all excited about them going out. I don't even watch The Voice! But I adore the idea of these two being happy together. I know, I know, I'm weird.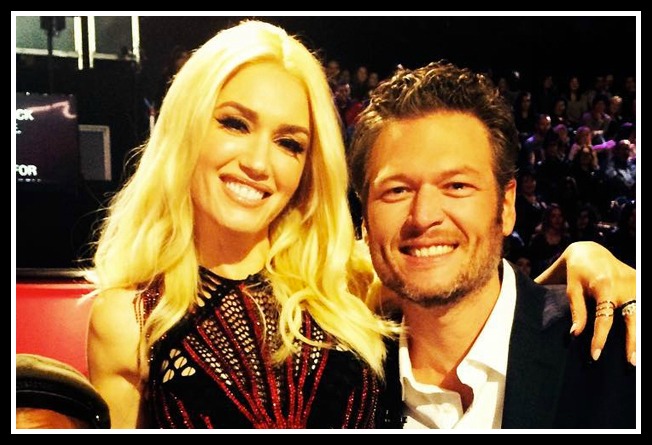 Tonight, Cammy is going to graduate from his white belt to his gold belt in a karate graduation ceremony at the local community college. A little over the top, don't you think? I do, but he's so excited. I'm sure it'll be cute. Today Barrett had his Thanksgiving feast at school. I helped him make stuffing to share with his class. He was so proud carrying the container of stuffing onto the bus – and yet I know he probably won't even try a taste.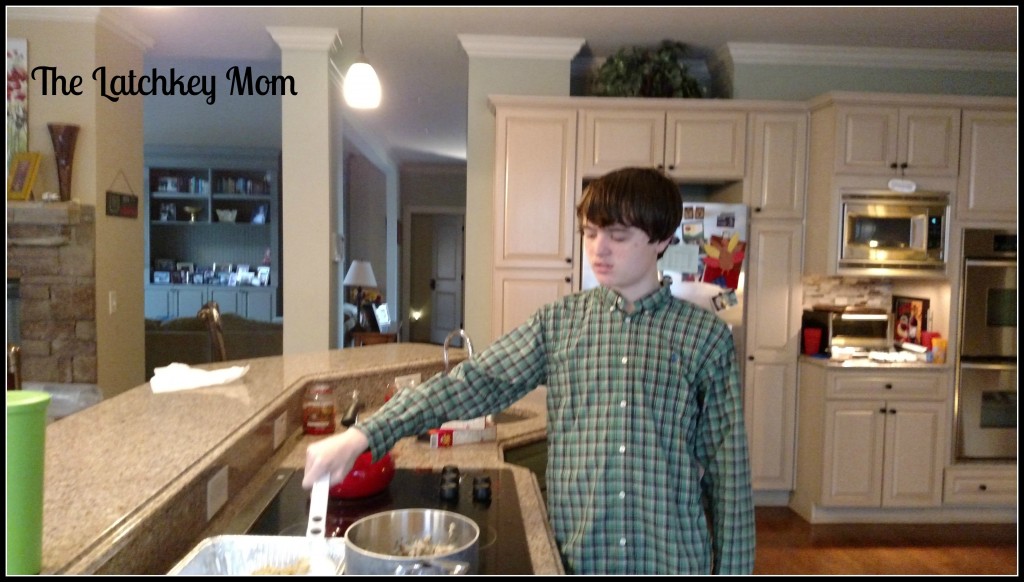 I do have a funny Barrett story. He's grown so much that, of course, none of his pants fit. I've been trying to make it work until his birthday. With a December birthday, it's hard to come up with both birthday and Christmas gifts. Last Saturday however, it had reached the point of vulgarity. There was no way I could take him out in public with his jean so damn tight. Off to America Eagle we went. I tried to convince Hunter to come with us, promising to buy him anything he wanted (because he's still wearing his ratty gym clothes from last year – to school!). He smirked and said, "No, that's alright. Why don't you and Barrett run along and have yourselves a good time." Very nice Hunter.
Anyway, since the inappropriate jeans were a size 16, I deduced that Barrett was now wearing man sizes. I've never bought a man a pair of jeans – I kid you not. I had no clue what I was doing. I loaded up on a bunch of different styles, picking the low numbers for sizes, and we headed to the dressing room. It occurred to me that some people might have thought it was wrong for me to accompany Bear into the changing room, especially the young girls they had working there. I managed to find a woman my age and explained the situation. She was very nice and escorted us back to a room. I'm so glad I made my autism disclaimer. For Barrett, changing his pants multiple times was very funny. He laughed hysterically. And he sang. About rubber duckies. Can you imagine what the attendant would have thought, had I not explained the situation beforehand?
And that's a wrap for this week!
What are you thinking/worrying/laughing about?