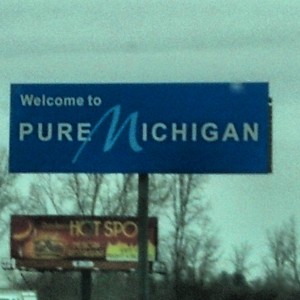 For years, we stayed home for spring break. The kids were young, and the mass exodus from the metro area made Atlanta a more pleasant place to be, because of the slower pace. Travel times within the city were cut by more than half and we could eat in any restaurant we chose, without a wait. Having lived in the state of Florida for almost twenty years, I knew that the beaches were dreadfully crowded during spring break. I had no interest in participating.
Then the kids got older, and I did feel the desire to follow the crowd and relax on a warm beach (especially after a cold winter). For the last couple years, we've journeyed to the sunshine state and our trips also doubled as a reunion with friends and family. This year we did something different, we headed north. I know – crazy.
We spent a great deal of time in Michigan last summer, to be close to my sister in-law Kelly (our family had a number of personal losses last year). We wanted to see all of our Michigan family and a plan was formed. But then the brutal winter unfolded! Honestly, I kept asking myself – why are we going to Michigan? In the end, love for family won out over my deep desire for warmth.
We took the long way to Toledo (my cousins live in Lambertville, MI – a suburb of Toledo), through Lexington, so we could pick up Dad, who was joining us for the weekend. We had a Smith-Cochran reunion for two days and it was lots of fun. On our last night, Kelly drove down from Detroit to see everyone.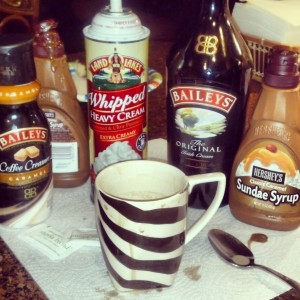 This is how coffee is served at Chez Cochran!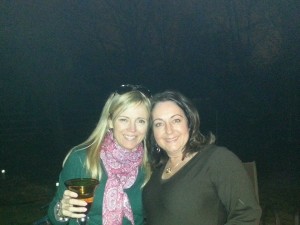 Kelly & I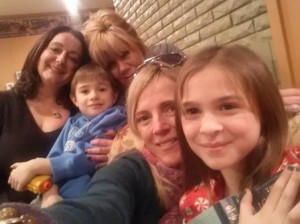 Kelly, Cammy, Jan, Me & Audrey
The following day, the six of us followed her to the suburbs of Detroit – Commerce Township.
When we got to Detroit, we discovered that there was still snow on the ground.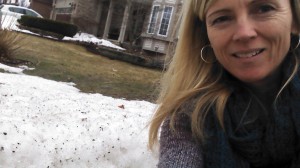 Cammy's comment: "Mom, the ground changed its clothes!" On our first night, the adults went out for a fabulous dinner at A Matter of Taste – one of my favorite restaurants! If you're ever in the area, you must eat there (especially in the summer – the view of the lake is fantastic)!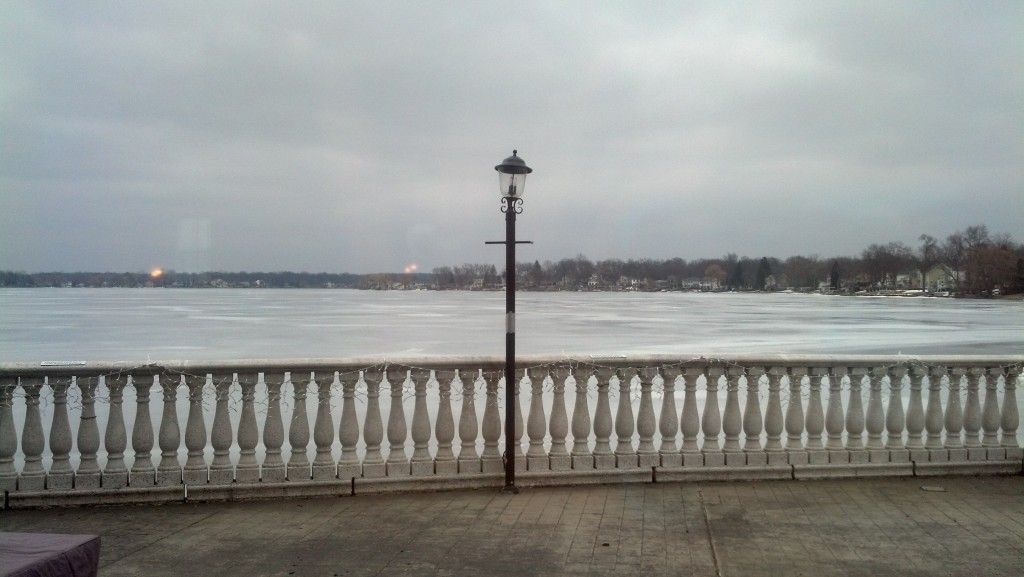 A view of the FROZEN lake!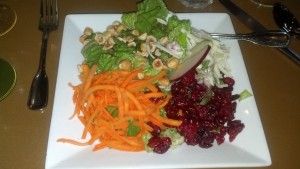 Best salad ever!
In addition to the delightful dining, we had some laughs. Kelly and my husband had a battle over the check that resulted with my sweet sister leaping across the body of a stranger, to grab our credit card from the gentlemen at the next table. He'd witnessed our arguing with the server over who should pay, and I guess he favored my argument. He took my card, so he could give it to the server. Kelly wasn't having it. If you know my Kelly, you understand how shocking this was. Once again, she was sporting her big girl pants.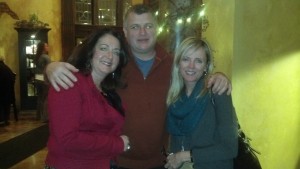 The dinner excitement was followed by a dip in the hot tub (which was my #idareallie of the day). It was freaking 20 degrees out! When in Michigan…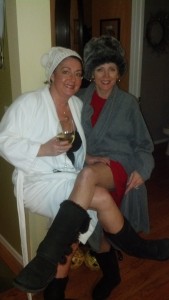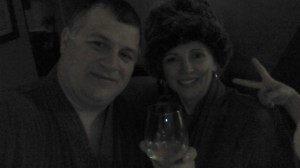 My husband had to fly out for work early Monday morning, but the kids and I hung out for a few days. The rest of the visit was filled with more reunions, a day trip to Ann Arbor, good food, laughter and an epic argument between me and my nine year-old daughter, over who sings a better version of "Let It Go." I say Idina Menzel, and she claims Demi Lovato (and she's also under the delusion that Ms. Lovato wrote the song).
Some snap shots: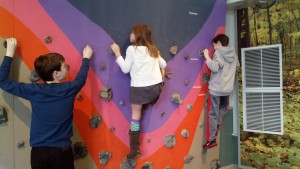 The kids at the Ann Arbor Children's Museum (which was lame).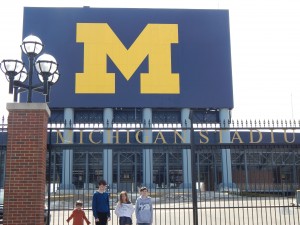 Not a UM fan – but wanted to see the Big House, anyway.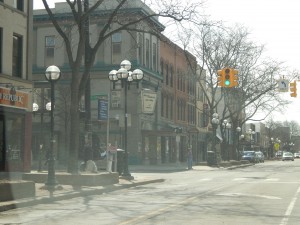 Downtown Ann Arbor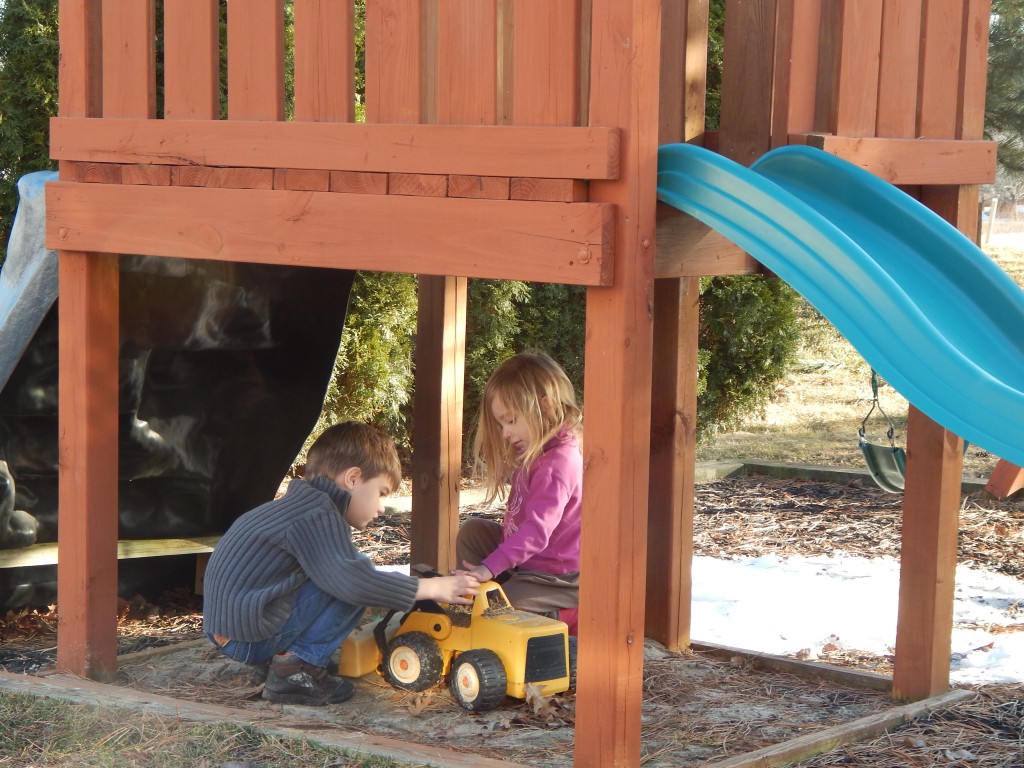 Cammy playing with his cousin Violet.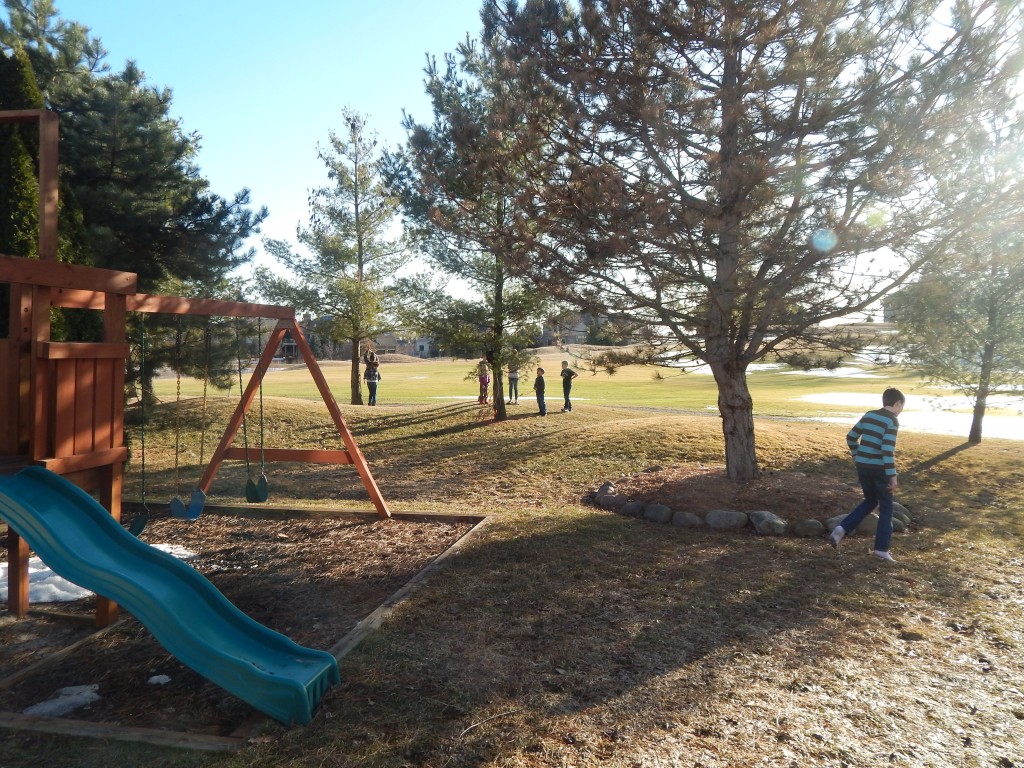 The sun actually came out!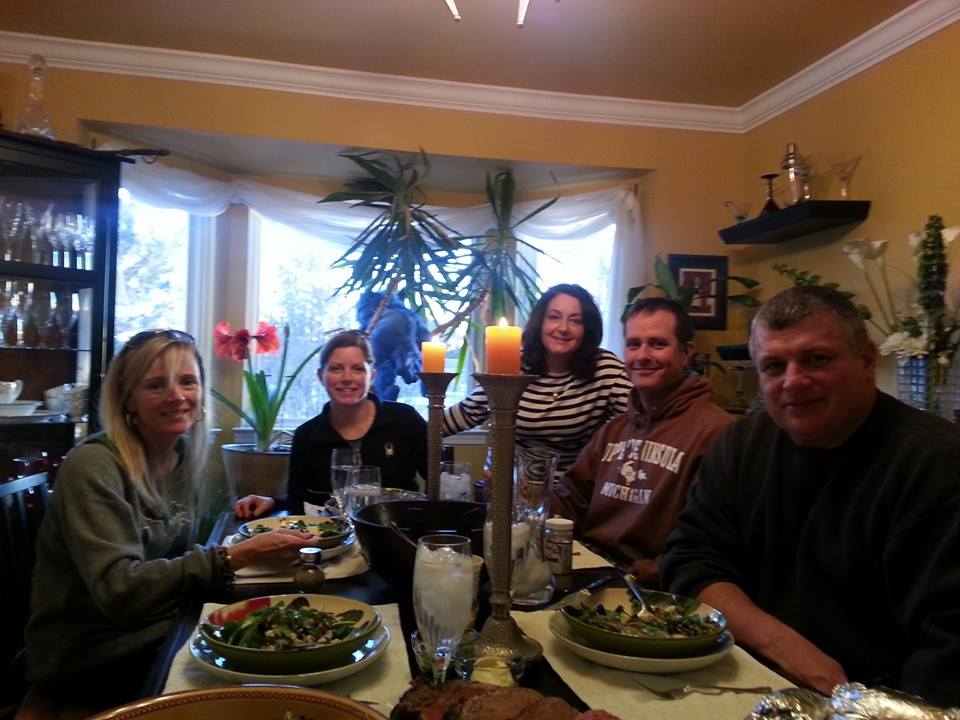 Sunday night family dinner.
I decided to take it easy on the kids and not do the full 11 hour drive home in one day. We (I) planned a stop in Lexington, with a detour to Frankfort, KY.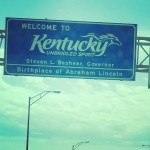 I have to tell you a little secret, Frankfort is a very cool little town. Quaint, clean and friendly. As we were taking pictures of Kentucky's original capitol building, I noticed a bookstore. Of course, I could not resist. It was one of the coolest stores I've ever explored! Poor Richard's Books had two floors – new books on the bottom, used books in the attic. After the bookstore detour, we toured the capitol, which was stunning, and the grounds of the Governor's mansion. Honestly, I wish we'd planned to stay the night, so we could explore some more, but we had reservations in Lexington.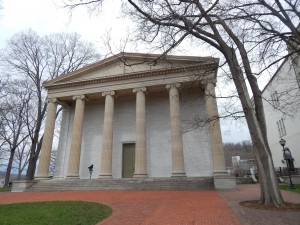 The original Kentucky State Capitol Building.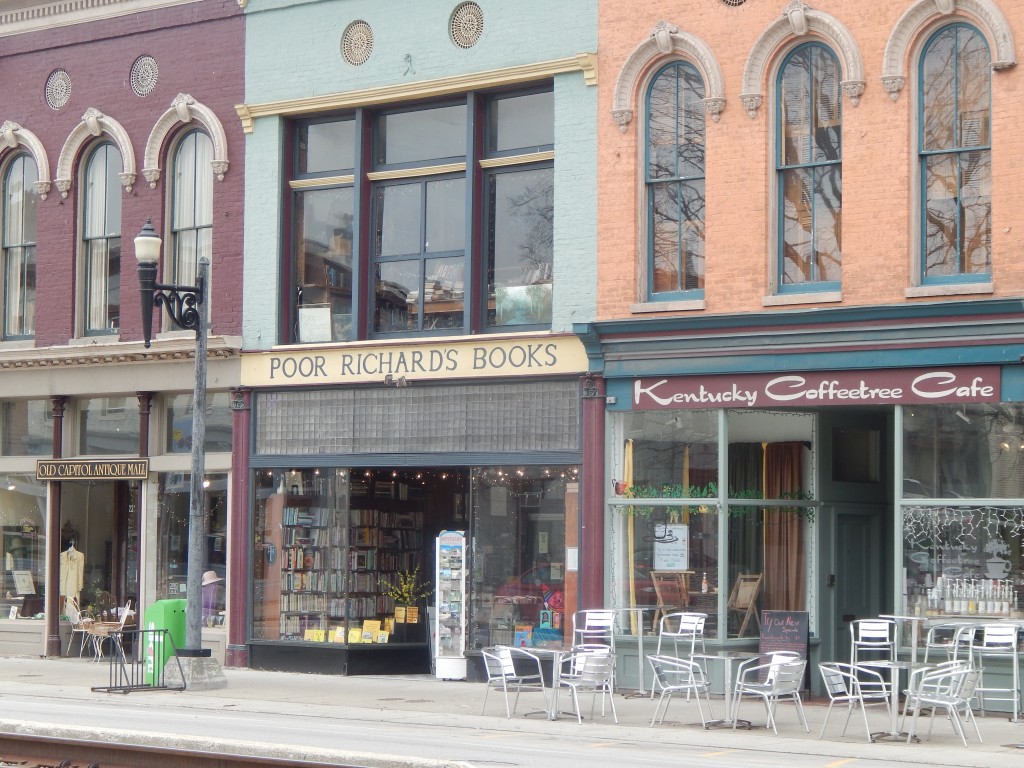 Who could see this bookstore and not go in?!?!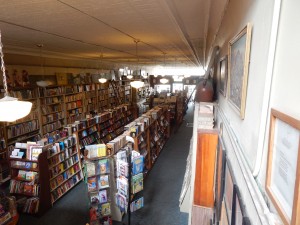 Don't you love it!?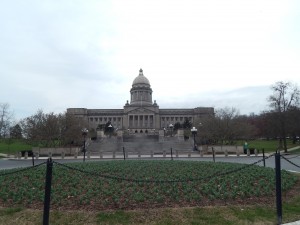 The present day Capitol Building.
Audrey and Mr. Lincoln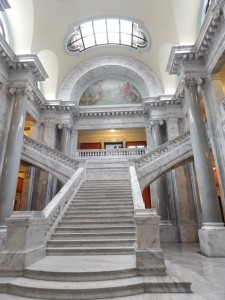 Yeah, Georgia's capitol building looks nothing like this.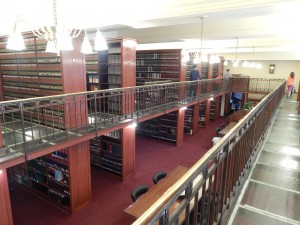 The Kentucky Supreme Court's Law Library – as you can imagine, the children were about as thrilled as you must be by this.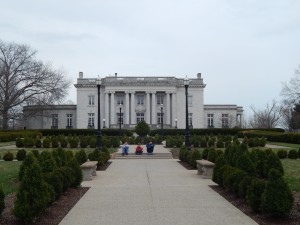 Kentucky Governor's Mansion
We didn't do much in Lexington – we were tired and it was raining. We slept in on our final day, and then headed home. We had a wedding to get ready for (details coming, I swear!).
Linking up with Mama Kat.
The Prompt:
1.) Let's reminisce about the last trip you took…pictures please!

How was your spring break? What did you do? Have you ever been to Frankfort, KY? Tell me about a place you "stumbled" upon that completed charmed you. Who do you think sings a better version of "Let It Go?"