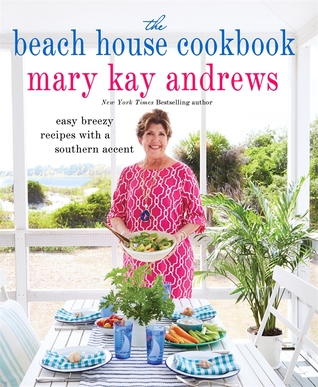 You guys know how much I love a Mary Kay Andrews novel! I've read them all. She's a fantastic storyteller and loves to write about woman's friendships. She also likes to throw in a mystery, some antiquing and heroines who love to eat. In the past she's occasionally included recipes in her books. Well guess what? Mary Kay Andrews wrote a cookbook. Yes she did, and it's fabulous. I was lucky enough to get an early copy and made her black bean and corn salsa, which will be a staple for my family this this summer.
Okay, here's the deal, I've never ever written a cookbook review. Truthfully, I don't think I have the culinary skills to do so, but I can tell you four things:
There are tons of very pretty pictures of the dishes, which will make your mouth water. Do not page through the book if you're hungry.
MKA wrote an interesting introduction to the book, explaining her love of the beach and her history with beach houses. Also, each recipe has a personal annotation that's fun to read.
The book is organized by menus. For instance, there's a menu for a New Year's Day Open House, Thanksgiving, Souper Supper, and a Full Moon Party (which was inspired by one of her books). The salsa I made came from the Game Day menu, which also includes a great chicken wing recipe. Each menu features recipe dishes for a full meal – appetizers, salad, main dish, sides and dessert!
MKA throws a hell of a book launch party (but more of that below).
So as I mentioned above, I made the black bean and corn salsa. I've been avoiding gluten and dairy, and this dish fit my current dietary requirements (or shall I say, restrictions). It can be served as a dip with chips, or I bet it would be delicious as a topping for grilled fish or chicken. Personally, I ate it as a salad, and it was yum. Lucky you, I'm going to share the recipe: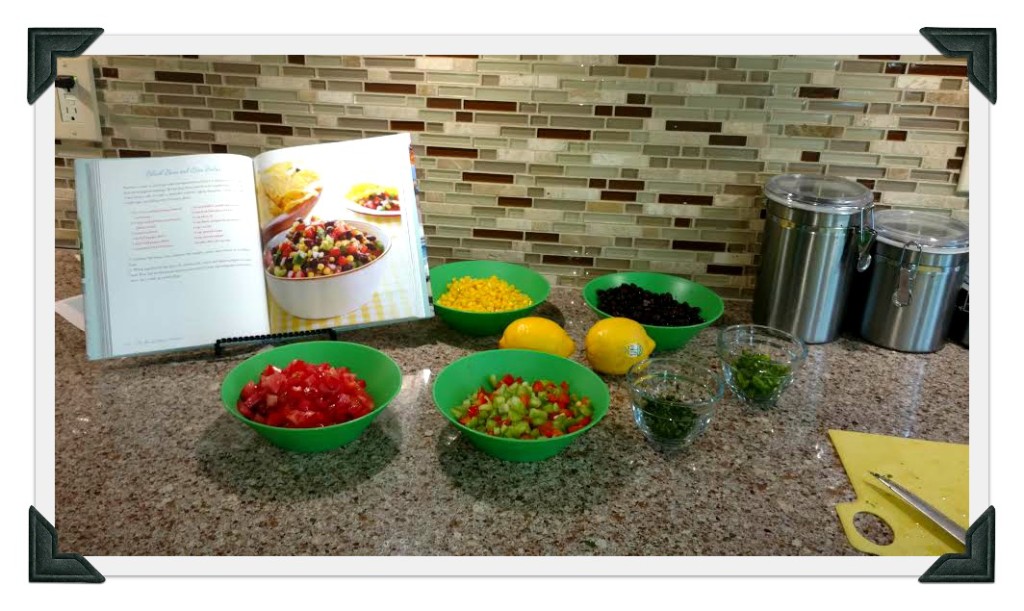 1 (15.5 oz) can of black beans, drained and rinsed
1 ½ cups of cooked fresh corn kernels (about 4 ears) ****Allie Confession: I used frozen corn niblets, rinsed in hot water and left out for about an hour to thaw completely.
2 tomatoes, diced
1 green bell pepper, diced
1 red bell pepper, diced
2/3 cup for freshly chopped red onion ****Allie confession: I love red onion, however no one else in my family does. I had to leave it out.
2 serrano chiles, seeded and minced
1/3 cup of fresh lime juice (3 limes)
1/3 cup of olive oil
¼ cup of freshly chopped cilantro (no cheating here – fresh makes the dish)
1 tsp of sea salt
½ tsp of ground cumin
½ tsp of cayenne pepper
Tortilla chips for serving
Combine the beans, corn, tomatoes, peppers, onion, and chiles in a medium bowl.  
Whisk together the lime juice, oil, cilantro, salt, cumin, and pepper in a small bowl.
Pour over the black bean mixture and stir well. Cover and refrigerate until ready to serve.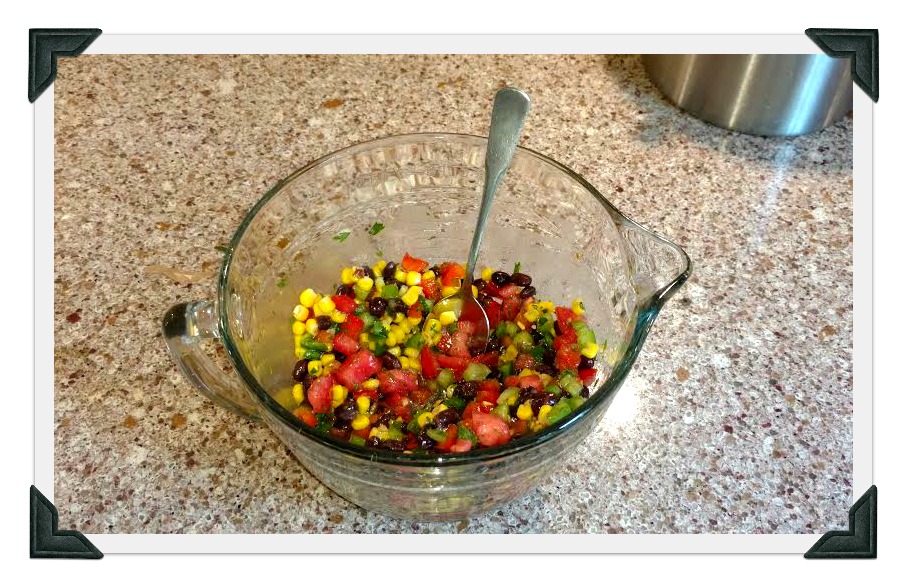 How easy is that?
Now, party details.
Mark Kay Andrews lives in the Atlanta area and she hosted her book launch party on Sunday. Fittingly, it was held at The Cook's Warehouse (local peeps, they can give Williams Sonoma a run for their money) in Midtown. My friend LynnAnn loves to read and cook, so she was my date. Also, it was her birthday celebration.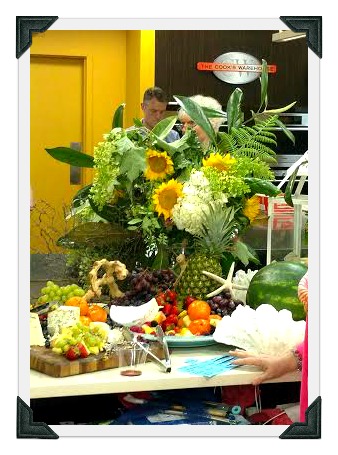 They had so much food there, you wouldn't believe it. They made food from the book – deviled eggs, chicken salad, pulled pork, pimento cheese sandwiches, and butterscotch brownies. It looked so good, but I behaved myself because of my diet. Unfortunately, I didn't think to take a picture of the spread untill half the food was gone. My bad. They also had a bar, serving wine and Bloody Marys. Y'all (it's a southern cookbook, remember), the cocktails had a kick, but they were yummy – and I consider myself quite the expert when it comes to what makes a good Bloody Mary. Also, the Bloody Mary recipe is in the book.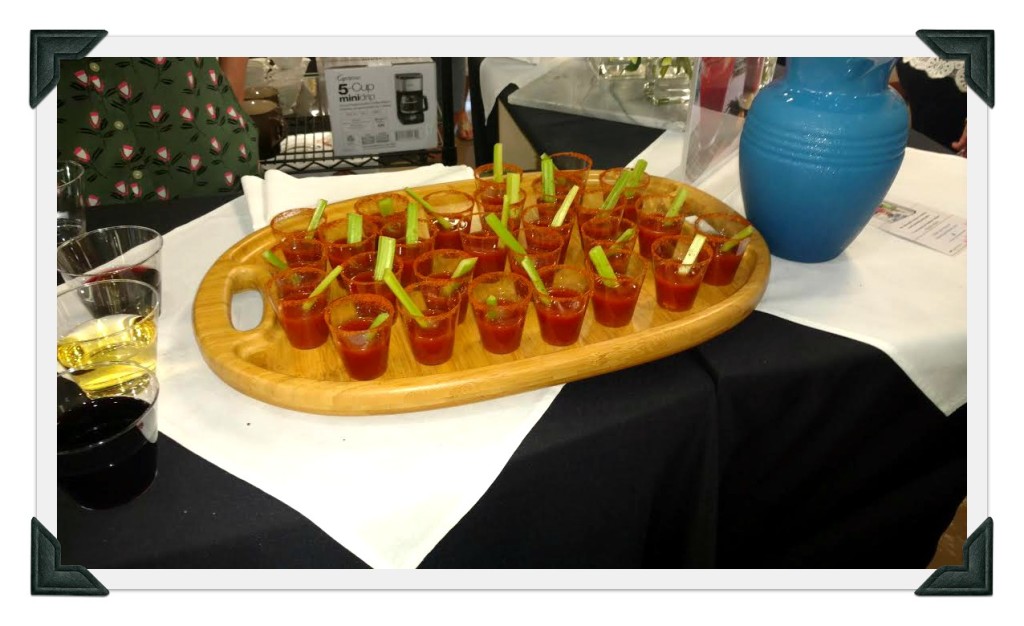 LynnAnn and I got our cook books signed by the author herself. I've met Kathy (MKA's real name) a few times and she's just so charming. I also got to meet her publicist, Megan, who I've worked with the last few years.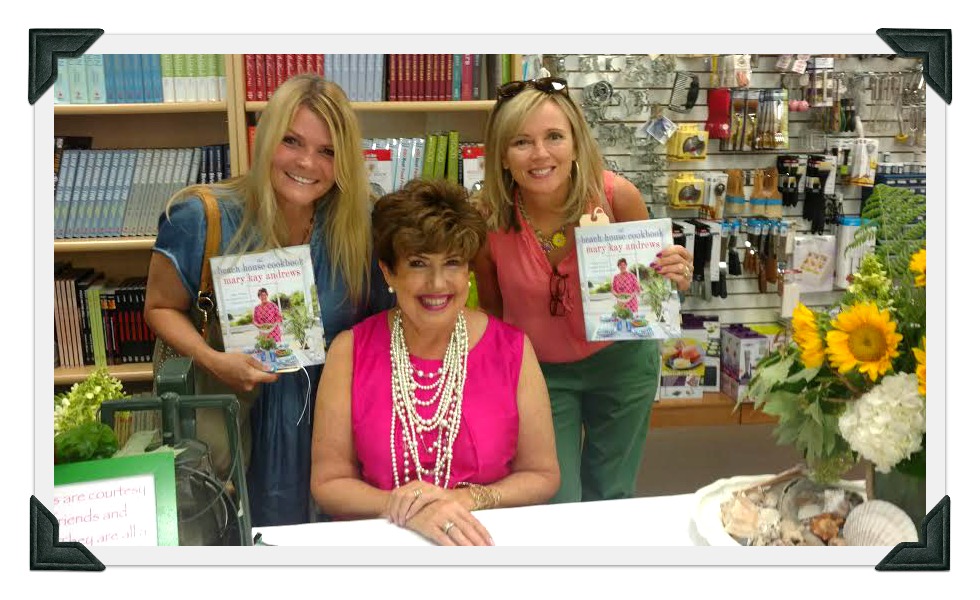 After she was done signing, MKA got on the microphone and introduced us to her team – including her assistant and publicists – and her family. She teared up when she introduced her daughter Katie, and then, of course, I teared up. She also introduced her husband, who was her high school sweetheart! They are so cute. He was the grill-master for the event, out in the parking lot cooking food for her fans.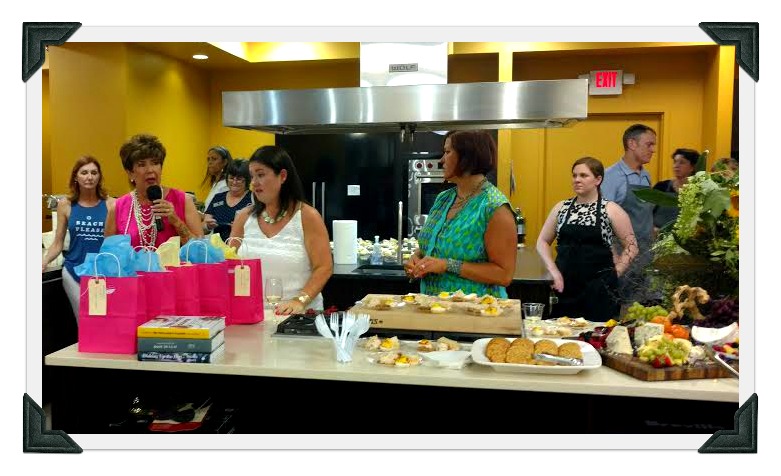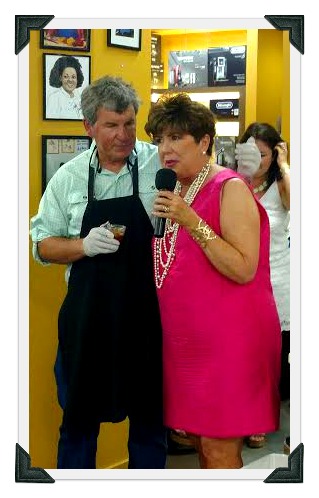 MKA and her "Starter-Husband" – her words, not mine.
They sold raffle tickets for charity. I'm not exaggerating when I tell you there were at least twenty Mack daddy prizes. It was our lucky day! I had my eye on a cool retro print beach bag that was filled with beach gear and books. Guess what? I won that sucker. I felt bad, because LynnAnn bought the raffle tickets for us, so I told her I'd split the contents with her. She said, "No way. Plus, I'm going to win the Green Egg." Are you familiar with the Green Egg? I'm not sure if it's a Georgia thing, or a national craze, but people who have a Green Egg love them – ridiculously so. It's kind of a cult. Anyway, I'll be damned, but LynnAnn won that damn Green Egg. We were soooo excited! We're Mark Kay Andrews' fans for life!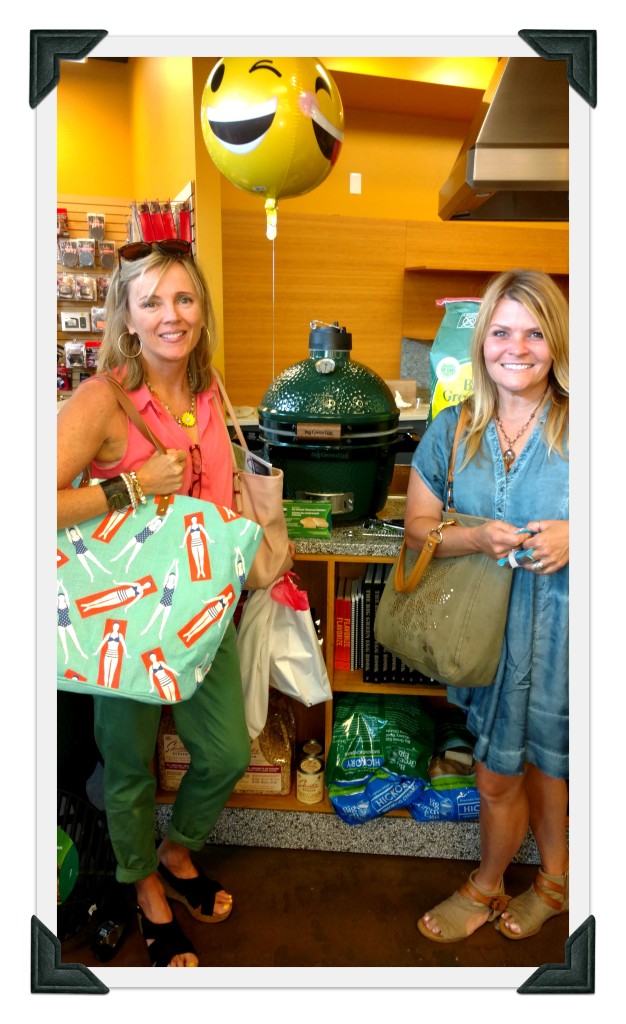 I'm going to pay it forward and giveaway a copy of her cookbook. All you have to do is comment below. I will randomly pick a winner on Monday May 8th.