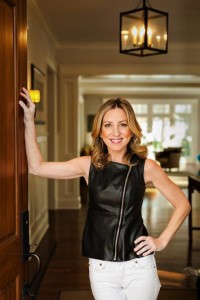 Today I'm very excited to feature author Emily Liebert on the blog, sharing the books of her life. I'm a huge fan of Emily's, having read all of her books. We've even shared a few exchanges on BooksReads, and she's graciously sent me signed book plates over the years. I'm glad that I hadn't read her bio before reaching out to her, because I would have been very intimidated. She's had all of my dream jobs – a producer at ABC News (working with the late great Peter Jennings), an editor and chief of a life style magazine, a successful freelance magazine writer, and of course, published author. Oh, and in her free time she also teachers Pure Barre classes. Yikes – I dropped out of Pure Barre after two weeks. Those classes are super tough.
I just finished Emily's latest novel, Some Women, and I loved it! As always, it's well written and fast paced, with believable characters. Ultimately, it's a story about the importance of friendship.
Annabel Ford has everything under control, devoting her time to her twin boys and keeping her household running smoothly. But when her husband of a decade announces that he's leaving, she's blind-sided. And suddenly her world begins to unravel.
Piper Whitley has always done her best to balance it all—raising her daughter Fern by herself while advancing her career as a crime reporter. Only now that she's finally met the man of her dreams, Fern's absentee father shows up, throwing everything into a tailspin.
Married to the heir of a thriving media conglomerate, Mackenzie Mead has many reasons to count her blessings. But with an imperious mother-in-law—who's also her boss—and a husband with whom she can no longer seem to connect, something has to give.
On the surface, these three women may not have much in common, but just when they each need someone to lean on, their lives are thrust together, forming unlikely friendships that help each woman navigate her new reality.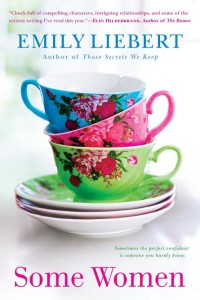 You can order a copy of the book here.
And now, please continue reading to find out the books that have influenced Emily.
♣
What was my favorite book as a child? Charlotte's Web. It's the most authentic "love story" I've ever read.
 What's a book that really cemented you as a writer? Summer Sisters by Judy Blume. It's the book that made me want to become a writer and I go back to it time and time again.
Is there a book that you didn't understand what all the hype was for? There are two. Twilight and Fifty Shades of Grey. I didn't get either.
What's a recent book you wish you'd written? Sweetbitter by Stephanie Danler. I just finished it and was completely obsessed.
What's a favorite movie adaptation of a book you loved? The Devil Wears Prada by Lauren Weisberger. Brilliant book, brilliant movie.
What was an illicit book you had to read in secret as a child? Forever by Judy Blume. In retrospect, it probably wasn't as illicit as it seemed at the time.
What's a book people might be surprised to learn that you loved? An Absolute Gentleman by R.M. Kinder. It's based on the author's real-life relationship with a serial killer.
Who is your favorite character? Charlotte in Charlotte's Web. She's elegant and scrappy at the same time. That's not easy to achieve.
If there were only one genre that you could read for the rest of your life, what would it be? Women's Fiction
Books or eReader? Both, depending on my mood. I still love to hold a book in my hand and turn the pages, but sometimes an eReader is simply more convenient.
Do you keep your books or pass them on? Keep. I will lend, but I like to get them back. Books are the ONLY thing I hoard.
Do you have a favorite place to read? On my porch. Or on a lounge chair in Cabo San Lucas!
Do you have a favorite bookstore? Barnes & Noble in Westport, CT. It's my local bookstore so I'm partial.
I read Summer Sisters years ago, but it has popped up in these interviews quite a bit. I think I need to go back and read it, because I don't remember very much about it (other than I did like it). I feel the same way about Twilight and Fifty Shades, and have been practically burned at the stake for saying so. You are brave to put it out there. I thank you. I read Sweetbitter this summer as well, and as a former server, I can attest it's legit (although I think, hope, it was exaggerated a bit for fictional purposes). I loved the Devil Wears Prada – and dare say I even loved the movie more! And hands down, Forever is the number one answer to the illicit book question.
Thanks Emily!!!!
Please share your comments for Emily below. If you want to learn more about Emily and her books please visit here at the following places:
Other Books of My Life Posts:
TBOML: Tamara from Tamara like Camera
TBOML: Author Aidan Donnelley Rowley
TBOML: Liz Fenton & Lisa Steinke