The Great Wife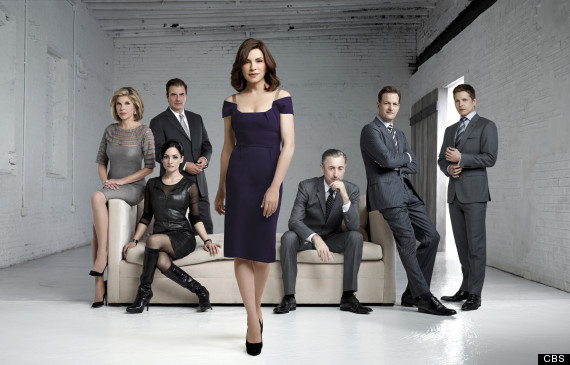 I am so enraptured with the TV show, The Good Wife, that I impatiently await each week's new episode.  In fact, for the first time since I figured out how to work my DVR, I actually watch a show LIVE.  Can you believe that?  Live.  I also start watching fifteen minutes into the program, so I can queue up time and be able to speed through the commercials.  The show is so intense that I can't handle waiting through commercials for the next scene.
Last Sundays' episode was like the greatest tennis game ever, with each legal team lobbing "balls" back and forth, and I swear my neck was turning as if I was really watching a match.  All this, after the explosive scene between Will and Alicia!  OMG – no wonder their affair was mostly shown in teasing snippet flashbacks, because there's no way we could have handled these two in the bedroom.
Let's start at the beginning of the episode, appropriately name "Hitting the Fan," when Diane told Will about Alicia's plan to leave Lockhart Gardner with Cary and take some big clients with her.  Poor Will, the shock and disbelief he displayed made him look so vulnerable.  Will, the man who's screwed countless people over, got a little taste of his own medicine from the woman he loves (and we all know he does, even if he doesn't realize it).  I didn't like it.  Not one bit. 
Then Will confronted Alicia and just let her, and her desk, have it.  I was actually scared, but we all know Alicia has some cojones and she wasn't going to back down.  For the second time in five minutes, Will was dumfounded.  She was actually going to challenge him – and buy herself some time – by forcing him to gather the partner troops in order to vote her out.  In the meantime, she was calling her partners in industrial espionage to get them to download the client files.  How do these people (okay, characters) think so clearly and act so quickly when they're panicked and angry?  I'd be a total mess.
Before the second commercial break Will, Diane & David Lee – who I just love being front and center this season – had Alicia escorted out of the office by security and they fired all the fourth year associates!  Even if they weren't part of the exodus plan, they were gone.  Alicia walked out of the office stoically, but when she was in the elevator alone, she cried.  Alicia. Does. Not. Cry.
Alicia didn't take long to rally back.  The race was on for Chum Hum, one of the firm's biggest clients. The legal back and forth and the defections and treachery all happened so quickly that I could barely keep up, nor could my rapidly beating heart.  Kalinda made her choice clear and I think she's going to be major player in this war, which means it's going to get nasty.
Peter sure has his swagger back, doesn't he?  I knew he'd get seduced by all that power!  Step away from the dark side, Peter!  That phone call with Will?!  Yikes.  That conversation revealed that Peter knows Will slept with his wife and he's going to handle it, "not as the Governor, but as a husband."   Things are going to get very interesting, as demonstrated by the next two moves Peter made.  He threw down a tax gauntlet that brought Chum Hum to the Florrick Agos camp and then he indicated that he was no longer supporting Diane's nomination for the Supreme Court.  What was up with that?  Poor Diane, but hey, at least she married her Marlboro Man!
Is it just me, or does Will seem to be enjoying all the drama?  I'm not sure he completely understands why Alicia did it – um, cause she loves you!?!? – but I know why he's making it his mission to destroy her.  There's a fine line between love and hate.  Curiously, even with his anger and all the legal (and spiteful) maneuvers, Will still answered Alicia's phone when her daughter called.  Then, after their "go to Hell" exchange, Will gives Alicia the message from Grace.  That is all kinds of messed up -but I love it!  It gave me a much needed laugh.  Speaking of messed up, am I the only one who thinks the battle of the minds with Will served as foreplay for Alicia?  Lucky Peter got to enjoy the benefits, with all of Alicia's coworkers in the next room.  Wha-wha?!??!?!?!  That scene made me a little bit uncomfortable.
This show has never been better.  In my opinion, it's gone from The Good Wife to The Great Wife.  The show has it all:  legal drama, politics, corporate intrigue, complicated family dynamics, humor, sex and love.  The scenes they teased for the coming episodes rocked.  They looked better than the last five episodes, which seems impossible.  Plus there's a new lawyer in town – played by the gorgeous and charming Jason O'Mara (of Vegas & One For the Money)!  I can't wait!  Is it Sunday yet?
Do you watch the Good Wife?  If you've made it this far, I'm assuming that you do!  Are you Team Peter or Team Will?  Are you on the side of Florrick Agos or Lockhart Garner?  Do you think Kalinda is squarely on Will's side, or is she only out for herself?  How funny is David Lee?  Will Peter return to his evil, cheating ways?