This year I have a child in seventh grade and so far, it's been an excruciatingly frustrating experience.   I've debated as to whether or not I could write about it, because I realize that middle school is a sensitive time in a child's life.  Yet, I'm absolutely certain he'll never read this, because getting him to read anything on his own, other than ESPN.com , is akin to my climbing Mount Everest.  I'd also love some advice, or at the very least, some commiseration.
Hunter is a smart boy, but he does have some learning issues.  He has difficulty paying attention, especially to things that don't interest him, and he struggles with reading comprehension, particularly with fiction.  He can tell you what happened in a story, but it's the why and the what-ifs that trip him up.  Vocabulary is also probably another impediment.  Unfortunately reading comprehension affects all subjects.
That's the main problem I suppose, but attitude and motivation are other issues we deal with and I'm sure they're interrelated.  It's hard for anyone to get motivated if there are many obstacles.  Yes?  For years Rich and I have emphasized that school is number one and this, for the time being, is his job.  His future depends on it.  Getting into college depends on it.  To succeed in life, you must work hard…blah, blah, blah.  Even I'm tired of hearing us preach.  So tired. 
Seventh grade is very different from sixth grade, which was basically another year of elementary school. I was actually surprised by how well he did last year.  Sadly, that's not the case this year.  I feel like I've been jettisoned from the minors to the majors without any proper training.  I missed the parent open house at the beginning of the school year, so I didn't initially meet any of his teachers.  The school also launched a new online learning system, which is how parents and students can access school assignments, materials and grades.  When classes began, the teachers were still being trained, so there was nothing on-line.  To put it simply, I had no access to information, other than Hunter.  Trust me, that's not a good option.
Mother and son started bickering.  He couldn't remember to bring materials home or write assignments down.  In some case, he lied.  I yelled.  I was in the dark because of the technical difficulties.  I was emailing teachers, who I'm sure were being bombarded by other parents, and I wasn't really getting timely responses (or in some cases, any response).  When I did, I got the standard "He's so sweet.  He's doing fine."  This has always been the party line, because Hunter is a good kid, quiet and polite.  Teachers love him.   Then I got a little crazy – over what I'm embarrassed to admit I no longer remember.  I emailed everybody and their mother and called a meeting, bringing his bother Barrett's advocate along with me – I wanted them to know I was serious.  In retrospect, that may have been an asshole maneuver.  Not the first time that's happened and probably won't be the last.
Together we set up a system to support Hunter with executive functions.  Say what?  Basically, we required him to be accountable by writing everything down and having his teachers sign off.  I know it sounds simple, but it isn't.  I kept stressing to Hunter that if he did everything he possibly could to prepare, I couldn't get upset if he didn't get a good grade (ok, I'm lying, I'd still be UPSET, just discrete about it).  But if he doesn't even study, or bring the books and study guides HOME – that's when I lose it.
Our détente lasted for about a week before Hunter was back to his old habits and then we were definitely not on friendly terms.  This killed me.  Hunter is the one child who's always tried to please me, wanted to please me.  Now he's full of piss and vinegar and it makes me sad.   I really don't want to cause tension for him at home, especially since I know there's so much pressure, both academic and social, at school.  But what else can I do?  I've tried everything but tough love.
Parent-teacher conferences were last week, and I attended alone.  Before unloading all my fears and concerns, I confessed to the group that I was aware of the fact that I'm a pain-in-the-ass.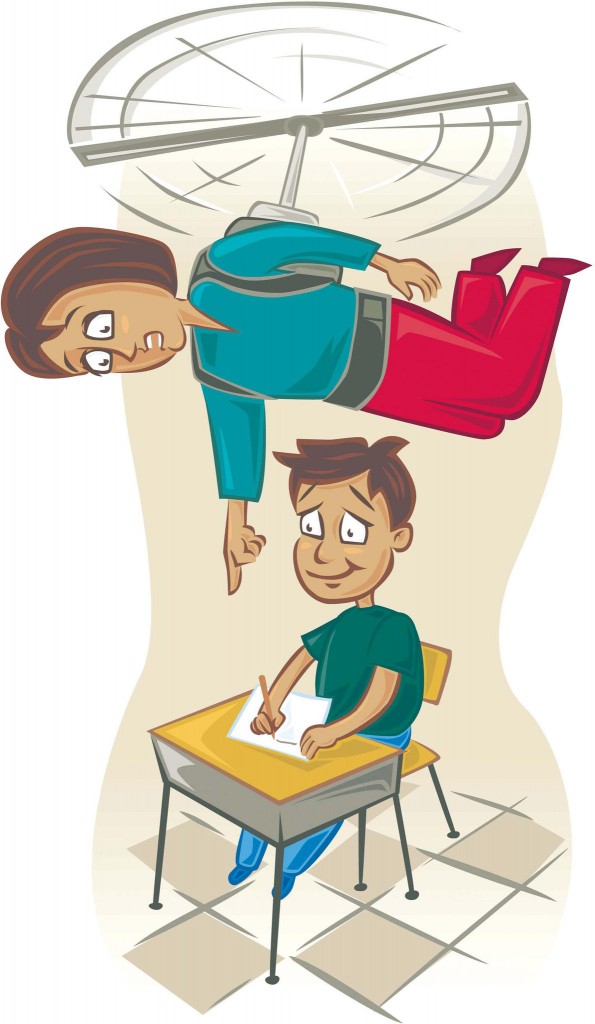 There's no denying that I've become something I swore I never would…a helicopter mom.  There, I said it.  I am one.  I know it and I hate it.  My parents never once quizzed me on my spelling words, let alone checked my agenda each day.  They had no clue what my grades were until report cards were sent home.  I was responsible to one person, myself.  What concerns me is that Hunter doesn't seem to feel that responsibility.  I know he doesn't want to fail a test, but he seems to just shrug it off if he does.  I don't understand this.   I feel like he believes that this good life we've provided him with will always be a given.   Does he comprehend that his dad works really hard in order to support our family?  Computers, Nike Elite socks (which I don't buy, his aunt spoils him), Under Armor, NASCAR tickets and cross country road trips are not in his future if he doesn't  get with it and make school a priority.  I don't know how to make him understand that.  Late at night, I fear that he doesn't plan to ever leave home, which kind of scares me.
Hunter's teachers said they hear the same concerns as mine, time and time again from other parents, and that much of Hunter's actions (or rather non-actions) and attitude are typical of a soon-to-be thirteen year-old boy.  They feel that he's solidly in the "middle of the pack."  They were basically, I believe, telling me to take it down a notch.  Maybe they're right?  I don't know.  For some reason, I focus (obsess) on where I want Hunter to be, rather than celebrating where he is and how far he's come.   There was a time not too long ago, when "middle of the pack" seemed like an improbability.  Maybe I'm the problem, because I should be happy.  Am I undermining his confidence by managing him all the time with my possibly unrealistic expectations?  This is a kid who had a rough start in life and he's honestly worked hard, against many obstacles, to get here.  Why do I keep forgetting that?  Maybe I do need to back off.  Maybe I need to let him fail, so that he experiences the consequences of not doing what his teachers require.   Isn't that how you learn to bounce back from failure and disappointment?  Why is that so hard for me to do?
Am I over the top?  Are there any other "helicopter moms" out there?  I hate that term, btw, can we come up with a new one?  Has anyone else had the middle school parenting blues?  Should we let our kids fail?  Do we give them too much?  Are Hunter's behaviors typical of middle school aged boys?  Do you ever feel like you are the subject of ridicule in the teacher's lounge?