We're leaving for our road trip in just over a week.  I'm getting butterflies in my stomach – excited and nervous.  As I mentioned in my post about the rewards and benefits of being road warriors, I'm in the process of finalizing our plans, rather late for me.  I've been so busy.  I'm also feeling a touch of anxiety, because I don't know that I'll be able to keep up my blogging schedule.  The road trip is all about family time and that'll be my priority.
My original blog is Road Warrior Momma, which comes back to life every summer so my family and friends can follow us.  You are welcome to check that blog during June, but be warned that it is a daily recap, and may be a bit mundane for those of you not intimately familiar with our brood.  I'll also be featuring highlights here, on The Latchkey Mom, probably twice a week – along with my usual posts (but not as often). 
To get everyone ready for summer travel, I'm sharing some of my tips for traveling with the kids – and asking you for any wisdom you may have for me that'll make our life on the road easier.
Planning the Road Trip:
I have a huge map of the United Stated that I roll out on my office floor when I start planning our trip.  I like to get a feel for the area we'll be exploring, to see how far it is between destinations.  Ideally, I like to keep our driving time to four hours and under, although that's not always possible.  When we're touring a region that's far from home, I save the "long hauls" for the first and last days.  On day one, the kids are excited and not yet burnt out on the driving.  Of course on the last day, they can't wait to get home, so they're willing to endure some serious car time.  (Our longest drive was 12 hours).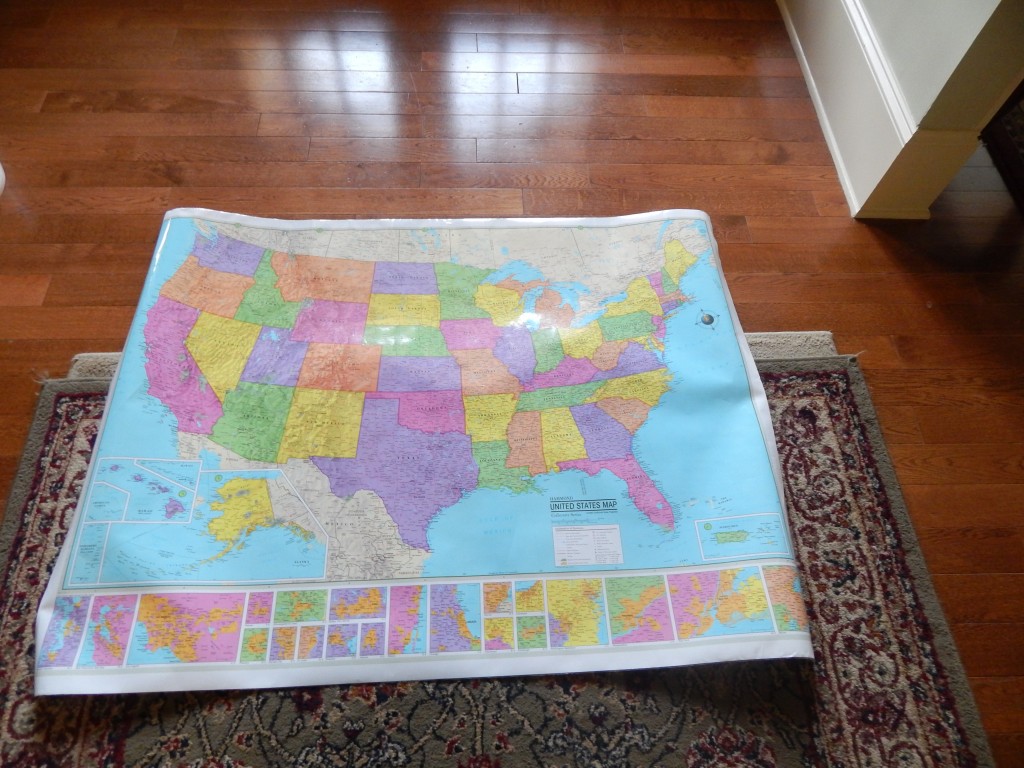 I usually have a pretty good idea where we're going by Christmas and try to book our rooms by January.  If you're going to popular destinations (such as the Grand Canyon or Niagara Falls) where there aren't a lot of hotel options, you should be thinking about accommodations up to a year ahead.  I learned this the hard way two summer ago when I booked Niagara Falls and could only find rooms in either Toronto or Buffalo.  Little did I know, there was a man walking across the falls on the weekend I was planning to be there.  Lesson learned – l booked the Grand Canyon eleven months out.
Once you have your rooms booked, be sure to check the rates periodically.  I've sometimes found that, unless there's a wedding or a convention, the rates will drop close to my check in date (but the opposite can happen too).  Be careful to check the cancelation policies at every hotel that you book.  During the months of May and June, hotels that are in the vicinity of a college or university often have stiff cancelation fees, because it's graduation season – some hotels require up to 30 day notice.  Also beware of weddings in June.  Call the reservations department and see if there's a wedding at the hotel.  We've been burned by this many times!  Wedding parties are usually young, excited and ready to party the night away.  I'm ashamed to admit that one time I had to call the front desk, at 2:30 in the morning, and get nasty.
Be on the lookout for internet fees when booking a room.  I'm a Marriott girl and this I know – Courtyard, TownPlace Suites, SpringHill Suites and Fairfield Inn usually offer free Wi-Fi.  In addition to other perks, joining a hotel's award club will allow you to avoid internet fees.  I belong to Marriott Rewards, Hilton Honors, Starwood Preferred Guests, Best Western Rewards and the Fairmont Presidents Club.  Also be sure to join AAA.  In addition to the road service (saved me a few times) they will send you free maps and almost all hotels offer AAA discounts, which can be significant!
Here are some other lessons I've learned from my reservation mistakes:  Beware of advanced purchase offers, because typically you cannot change the reservation in any way and if you cancel, you lose your money.  You have some protection if you prepay through Expedia or Travelocity, as they will usually credit you, but I've been burned when I've done this through hotels directly.  Also look to see if they charge for parking (and if they have valet as optional).  You may find a great deal on a room in Chicago, but then discover that you have to pay $50 a night for self-parking.  When traveling with the kids, I usually opt for hotels in the suburbs or in corporate areas.
Take advantage of TripAdvisor.   This is our fifth road trip, and I can tell you unequivocally that TripAdvisor has never done me wrong!  Yes, there will be people who have one bad experience and take their anger out on the internet.  They're usually pretty easy to spot, especially if it's the only one star rating.  I look at a hotel's ranking within the city, the number of Excellent and Very Good rating verses Terrible, and I read at least five comments.  Be sure to evaluate how many hotels are rated in a city. Number 99 out of 100 is probably a dump, but number 7 out of 8 may not be so bad.  Also check the date of the rating.  You can determine if the hotel is on the way down, or has recently gotten a facelift or if all of the bad ratings occurred during a high traffic event (like the NCAA tournament).
Utilize the maps that all the hotel and travel sites have.  See where the hotel is located in relation to where you're coming from and where you want to be.  If you'll be arriving late at night, you don't want to be driving to the opposite side of the city.  Ask friends and family (or post the question on FB) if a particular area is safe and or appropriate for kids.
Make sure your hotel has a pool.  Many northern hotels have indoor pools which can be good or bad.  They can get very loud and if you have a sensory issue, it could be a problem.  But if it's an outdoor pool in New England, in June, it could be cold and you'll want to be inside.
If you're staying at a large, full-service hotel or a resort by the beach, you may want to call and see if there are any conventions in house – and ask what groups.  I'm just saying, we've run into some funny situations that made good copy for the blog, but Momma had some explaining to do with the kids!  Also, if you're on a tight schedule, you'll want to make sure you're not checking out on the same day as 250 other guests, because they'll be no luggage carts and good luck getting an elevator.
Sightseeing:
Okay, so your hotels are booked.  Now you need to decide what you're going to do.  Again, TripAdvisor is a great resource for "things to do" in whatever city you're visiting.  Honestly, they've never let me down.  Another great place to look is the travel guide section on Scary Mommy.  I'm not just saying that because yours truly wrote the Atlanta Guide.  Scary Mommy is not as extensive as TripAdvisor, but it's a great starting point and you can take their list and research it on TripAdvisor.   Other sites I've used are the National Park Service and AAA.
Once you've decided what places to visit on your trip – go to their websites to see what kind of charges you'll be incurring.  I keep a spreadsheet, so I know where my dollars are going.  If we're going to do something that's a higher cost activity, then you can be sure we'll be balancing it out with some freebies.  In my experience, the expensive ticket items are:  amusement parks, children's museums (remember I have FOUR kids), ferries, and tall buildings ($140 for us to get to the top of the Sears Tower!).  Usually for free, or a nominal charge you can visit: National Parks, National Historic Sites, Monuments, and Presidential Libraries (the exception being The Clinton Library, where I had to donate a kidney to get in).  Also, stay away from new venues!  You wouldn't believe the circus we faced at George W's library last summer – from finding a parking space, to waiting in line to use the bathroom – it was crazy.
Special Needs Advice – depending on the venue, sometimes you can get a handicap pass for your child.  Barrett has one from the National Park Service and most government operated sites will let him (and occasionally the whole family) in for free.  Call ahead and ask what kind of accommodations they'll make, if any.  It never hurts to ask and I've found people to be very helpful.  They can tell you how long a tour is, if there's a slow time of the day and if there's a movie.  In the early years getting Barrett to sit through a movie was difficult, and I'd have to give him my phone to play with.  That backfired on me at the JFK Library, because we couldn't get internet inside.  He threw the phone across the theater.  Also, once you get where you're going, explain the situation.  At Graceland, they let us walk ahead of the group and do a self-guided tour.  It saved the day.  At the Mark Twain house the tour guide was an arrogant ______, who suggested we not go on the tour.  We went and made sure it was memorable for the Mark Twain wanna-be.  Apologies to the others on the tour, but you're welcome to all the special needs families who came after us!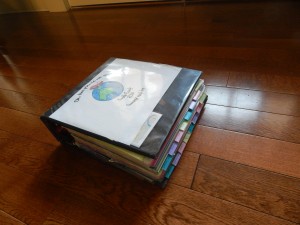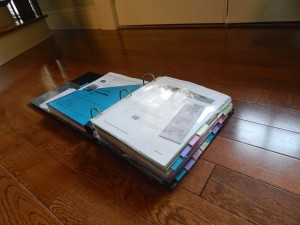 Once I've gathered all my intel and reservations, I put everything in a binder for our trip, complete with tab dividers and sheet protectors.  It becomes my bible!  The road trip bible contains all our reservations, directions, tickets and printed information.  It's great for the kids, too.  They like to look and see what's coming up.  I try to give our trip some balance. We always do at least one zoo, a race track (Hunter is a NASCAR fanatic), a stadium (and now that they're older, I try to see a game somewhere), an art museum, a science museum, a hall of fame of something, some beach time, a national park, a college campus, a children's museum, a train ride, a boat ride, some sort of amusement ride, and something music related.  Nonnegotiable are the presidential libraries (we will see them all) and capitol buildings.  After this summer, we'll have hit every single capitol east of the Mississippi.  We also cover the must-sees, for example:  the Smithsonian, Plymouth Planation, Sears Tower, Williamsburg, the Mall of America, The Arch in St Louis, Hershey's World of Chocolate and  of course, our family and friends!
How to Pack:
This is getting long, so I will spare you.  Well not really, but I'll save it for another post, because I do have lots of tips!
For the Road:
So if you couldn't tell by now, the road trip is a pretty big deal in our family.  We even have t-shirts made.  Each year we get a new one, with a theme and tag line.  I pick one day when we all have to wear them and the reactions we get are priceless.  Yes, we are road trip dorksJ.  Oh you guys, I wish you could see Big Daddy on these days – he is usually mortified!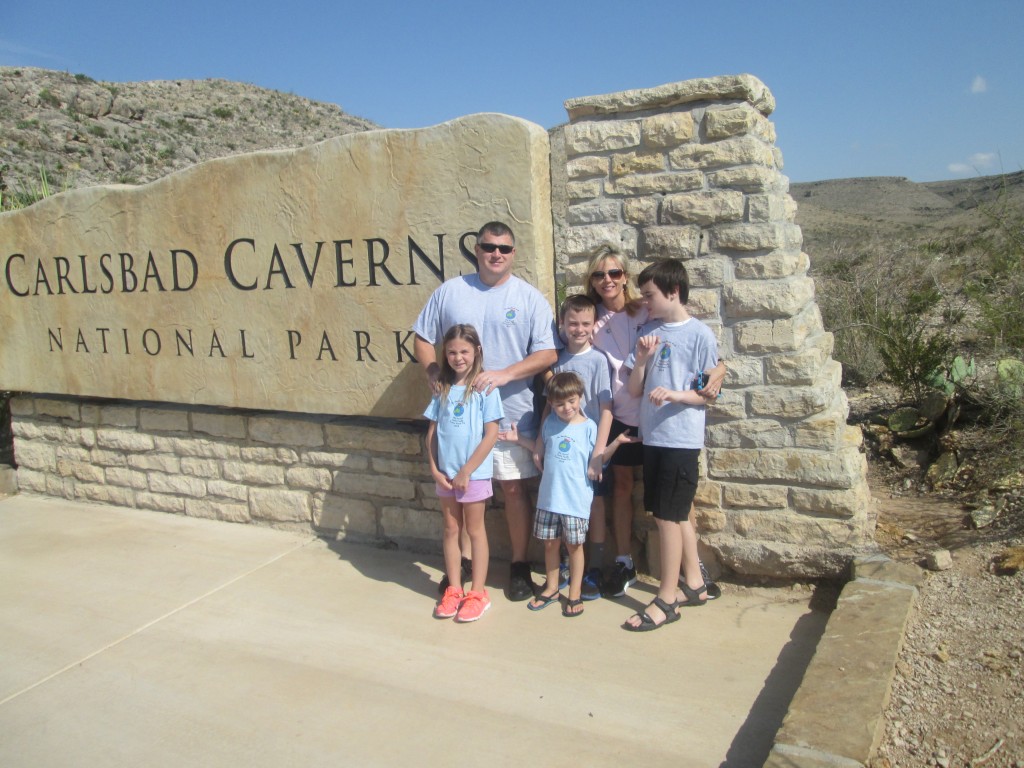 The scene of last years public t-shirt mortification:  Carlsbad Caverns.
We have a road trip playlist that we play each time we pull out of a town.  The first song is always, always Willie Nelsons', "On the Road Again," followed by Rascal Flat's "Life is a Highway."  You should see the hand dance that Barrett does to that song, it's precious.  Anyway, we have some staples that'll forever be on the Smith Soundtrack, but we change it up a little depending on our destination.  Last year "Route 66" (Rolling Stones cover) made the cut.  This year's play list will include, "Old Cape Cod" (which the children will abhor!).
Some of our favorites:
"On the Road Again"      Willie Nelson
"Life is a Highway"          Rascal Flats
"Lost Highway"                 Bon Jovi
"I've Been Everywhere"Johnny Cash & June Cater
"Hit the Road Jack"         Ray Charles
"East Bound and Down"               Jerry Read
"Born to Be Wild"             Steppenwolf
"Running on Empty"       Jackson Brown
We must have movies, and lots of them.  We have a rotating schedule, so that all the children have a chance to pick.  Recently this has been less effective than in years past, because they're older and there's a vast difference in their tastes (and maturity).  A good alternative that's worked for me (and is more economical than movies), is to purchase old TV shows by the season.  The kids have watched all five seasons of The Brady Bunch and devoured most of The Cosby Show and The Nanny.  Up on deck for this summer are the Partridge Family, Bewitched and Happy Days.  By the way, it's pretty cool to hear the kids sing along to, "Here's a story, about a man named Brady…" Even Bear sings along.
Other obvious must haves for the car:  snacks, drinks, portable electronic devices (chargers and batteries), word searches, crossword puzzles and magazines.  Also have a good supply of "family stories" to tell.  The kids are constantly asking me to tell them something from "when they were babies."  For the driver, if you are the lone adult, audio books!  I get mine through Audible and can easily listen to at least ten books on our trip.  Make sure you get unabridged versions, too.
Checking In:
I try to get to the hotel pretty early so I can avoid a crowd at check-in.  Always make nice with the front desk, because they can make your stay special (think upgrade).  Tell them you're traveling with kids and make your room preferences clear.  I usually ask for the first floor, so I can avoid fights over who will push the buttons on the elevator.  If that's not possible, I ask to be away from the elevator (noisy).  Ditto for vending and ice machines.  Ask the front desk attendant for a list of local restaurants.  I try not to eat in a hotel unless they have the have some sort of kids eat-free deal, because they're usually overpriced.  If you're on club level (join those loyalty clubs!), you can sometimes score some happy hour food, which will totally satisfy the kids.  Also ask if they have a (free) breakfast buffet.  The kids will love it (but it will be full of carbs!).
Make sure you have some cash for housekeeping.  We have feather allergies, and despite always asking for feather-free rooms when I make our reservations, half the time I end up having to call housekeeping to change out the pillows and/or bedding.  The first thing I do before hauling all of our luggage into the room is check the beds.  I check for the feathers, bed bugs(!) and to make sure the sheets are clean. Then I investigate the water pressure in the shower and verify that there's hot water (I've been nailed by this before and had to switched rooms after unpacking).  Flush the toilet too!  We've had a couple that have overflowed (usually at beachfront properties).  If you're going to be using the pull-out couch, check for extra bedding and make sure you have enough towels and pillows.  Housekeeping is usually gone by 5p.m., unless you're staying at a hotel that offers turn-down service.  Getting linens from the front desk can take hours!  Finally, make sure you know where the fire exits are (see below).
Before you go to sleep, place your phone, car keys, room key and purse/wallet close together, in an easily accessible spot, so you can grab them all in a hurry, if necessary.  We've had the fire alarm go off in the middle of the night more than once, although fortunately there was never a fire.  But you panic nonetheless, and you want to be able to get out as soon as possible (also make sure everyone's shoes are lined up by the door).   Once we exit, I usually get the kids right in the car, so I can keep them contained.  If something terrible happens, we're safe, we have a phone and credit cards.  Also, when you go back in, there's usually a long line at the desk, for people who left their room keys in the room.
How's all that for information overload?  Sorry, I just get so excited when planning.  Our itinerary is final, but I'm still putting together our sight-seeing schedule.  I'd also love it if you have any suggestions to offer about places to see or things to do.  Here, in alphabetical order (because some friends and family are worried about me posting our actual schedule) are the cities we will be visiting this summer.
Albany, NY
Amherst, MA
Annapolis, MD
Bangor, ME
Boston, MA
Cape Cod, MA
Charleston, WV
Cooperstown, NY
Detroit, MI
Hyde Park, NY
Kensington, PEI
Lake George, NY
Lake Placid, NY
Middlebury, VT
Moncton, NB
North Conway, NH
Philadelphia, PA
Pittsburgh, PA
Portland, ME
Poughkeepsie, NY
Princeton, NJ
Providence, RI
Raleigh, NC
Rehoboth Beach, DE
Richmond, VA
Traverse City, MI
Washington, DC
If you leave a comment, you'll be entered to win my road trip prize pack, which includes a quilted tote bag, $25 Target Visa Card, a CD of road trip songs, a travel size Yankee Candle, a Rand McNally Road Atlas, a drink tumbler for the car and two books.  Both books are anthologies by some of my favorite bloggers.  The first is a signed copy of You Have Lipstick on Your Teeth, which was edited by my friend Leslie Marinelli (her blog is The Bearded Iris) featuring original stories by women, for women, about being women.  The second, This Is Childhood, is a recently published anthology of essays, written by mothers, that were originally featured on the Huffington Post, about each year of childhood.  Stephanie at Mommy, For Real wrote wonderful review of the book (and is giving away three copies!).  This is the first time I'm using Rafflecopter for the drawing, which will give you a chance for extra entries.  I'll announce the winner at noon on Friday.
Do you have any travel tips for me?  Are you taking any road trips this summer?  If so, to where?  Can you suggest some sites for any of the cities we'll be visiting?  Make sure to check back during the month of June to see what we're up to!