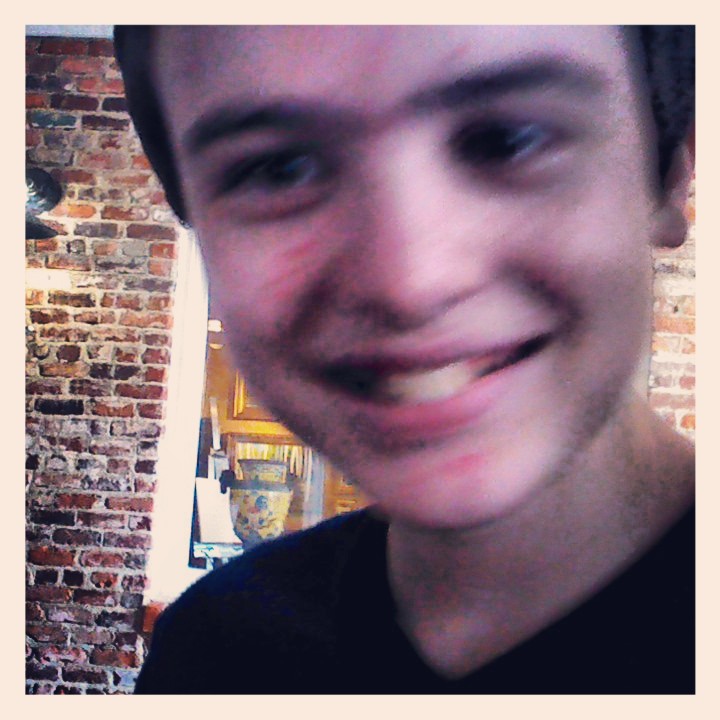 Today I tagged along with my son Barrett's class on one of their CBI (community based intervention) trips.  Barrett is in a self-contained autism classroom at one of our local middle schools.   In addition to academics (yay!), the curriculum also includes "life skills," in order to prepare these children for a (hopefully) more independent life.  Eventually vocational skills will be incorporated into their education.  The CBI trips give the students a chance to interact with the community and learn how to behave appropriately in social situations.
Good golly – that was a mouthful.  I hope I described it appropriately.  In mom terms, CBI trips are field trips.  So far this school year, Barrett has seen a play at the high school, grocery shopped, helped out at a pet store and gone Christmas shopping for his siblings (best presents ever).  Today, his class got to help in the kitchen at a local restaurant, before joining their mothers for brunch.  While dining, we got to watch a local artist paint beautiful pictures on canvas.
Best field trip ever!  I don't know why, but I was so excited to go and I had so much fun.  I left the restaurant with a big smile on my face.  Here are few things that made it special:
♦  The boys were all well behaved (believe me, I have been to class parties that went off the rails pretty quickly).  I hadn't realized that most of the boys in the class had been in kindergarten with Barrett, at a different school than the one he attended for most of his elementary years.  One of the moms brought the yearbook from kindergarten, and it was literally a blast from a past.  From babies to little men.
♦  I met some really nice moms.  As Bear and my other children have gotten older, our lives have become less defined by autism.  There are so many extracurricular activities for his siblings, and Bear has never attended our "home" school, he's always been out of district.  As a result, I don't often have the opportunity to meet other autism moms.  It's nice to chat with parents who are in the same boat.
♦  This was the first time I got to hang out with Barrett's classmates.  Middle school is different from elementary school, and we're urged to cut the apron strings, even in the special education environment.  So I haven't been in classroom much.  I really enjoyed watching the kids interact, both with each other and their mothers.  There are quite a few charmers in that class!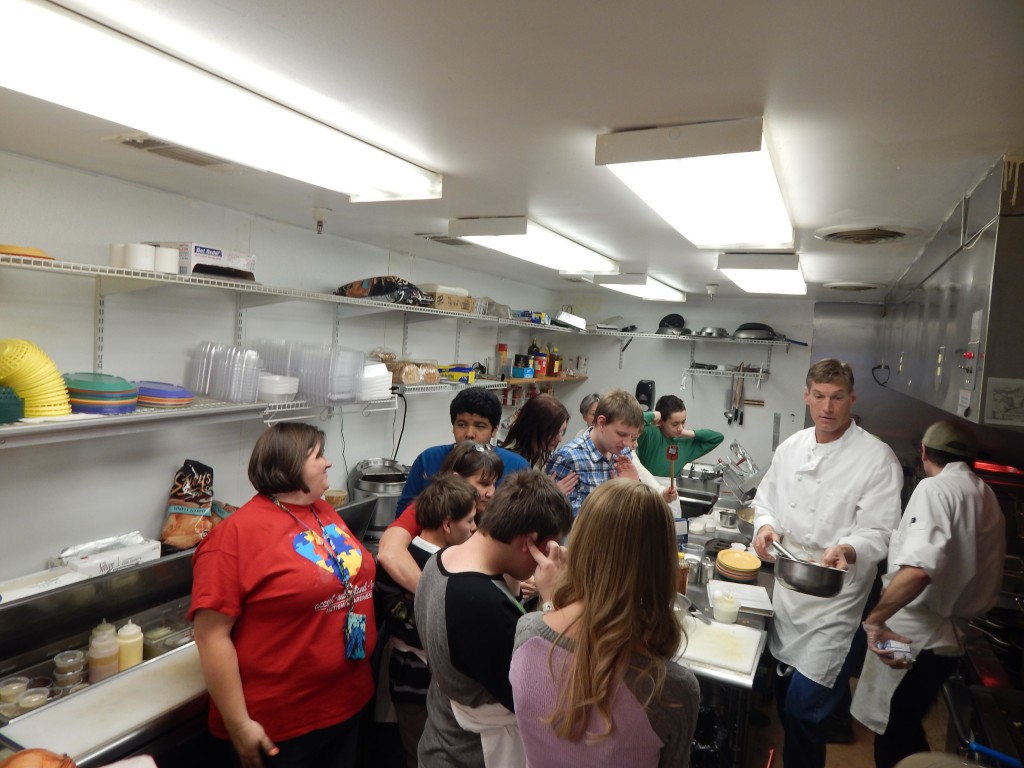 ♦  The staff at the restaurant was wonderful, they could not have been nicer.  It was very generous of them to let this wild bunch back in the kitchen to show them how food was prepared.    My local friends, this place is a hidden gem.  You must dine at the The Wildflower Eatery.  The food was out of this world.  They specialize in farm-to-table cuisine, with organic ingredients.  They have a vegan menu and a gluten free menu, as well.  Gentlemen, don't let organic, vegan and wildflowers scare you away.  I had the best cheeseburger I think I've ever had.  Fabulous!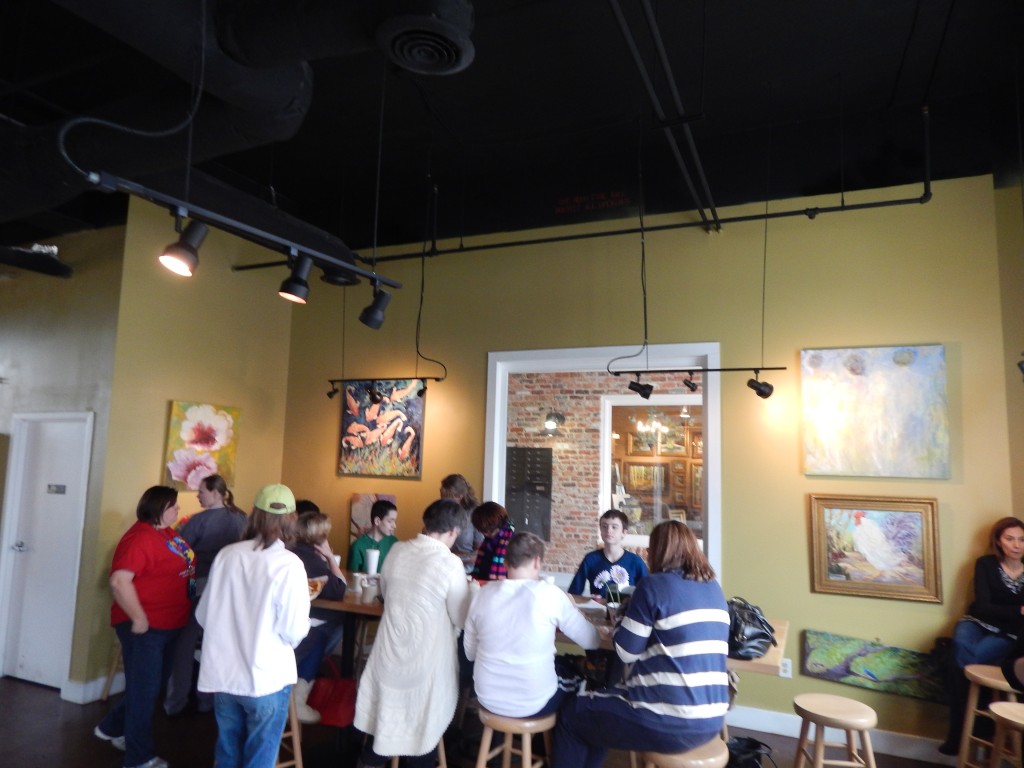 ♦  I got to meet the sweet young lady who's been volunteering in the classroom all year.  To be fair, there are quite a few students who volunteer in the class, but this young lady was the only one who was on the trip today and I am in awe of this girl.  I remember being that age, and I there was no way I'd have the courage, or the heart for that matter, to devote the time she does.  There's another reason I find her to be an inspiration.  She has something big going on in her life, something no one her age should have to deal with, yet she's in that classroom helping others.  She's extraordinary!
♦  Barrett's teachers are rock stars.  All these adventures they've come up with and all their dedication to the boys – we are so lucky.  Barrett is taking spelling and vocabulary tests, reading comprehension tests (albeit not at a 6th grade level) and working on his multiplications tables.  This is huge and I am just so proud.  He's also running classroom errands and they hope to have him working in the library soon.  Cool stuff!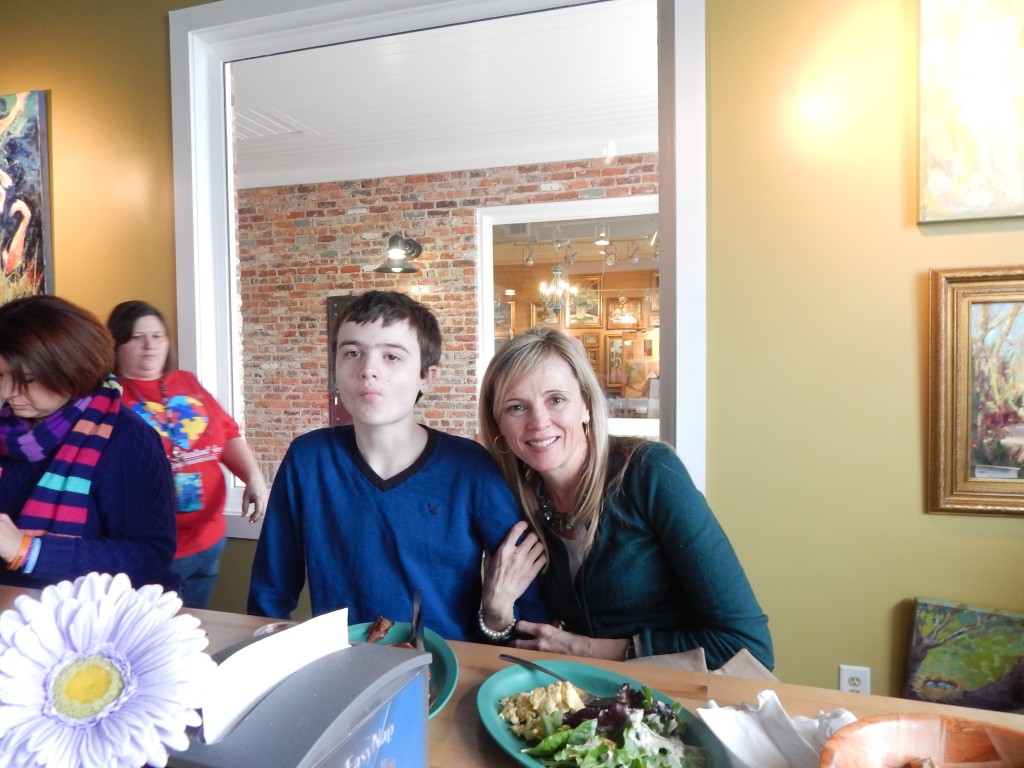 When it was time to say goodbye, Bear gave me a kiss and then went back to his class.  That right there tells it all!  In the past, whenever I would leave Barrett's class, he'd try to come with me and there would be a scene.  Believe me, it wasn't pretty. Today, he had no interest in leaving with his momma – he wanted to hang with his buds.
Best brunch ever!