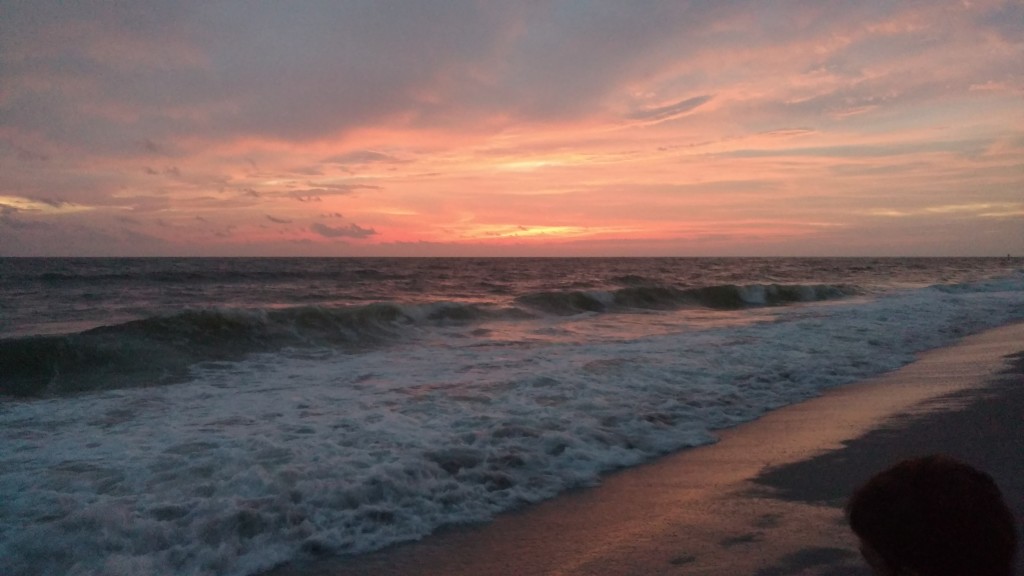 Alas, another summer has come and gone. Here in Georgia, the children have been back in school for over a month and everyone is bemoaning the heat and eager for autumn to arrive. Not me. I'm a summer girl and still in mourning for the passage of yet another season. I refuse to believe that Christmas is only 110 days away.
I had a wonderful summer, one filled with family, friends, travel, wonderful meals, and so many good books. It flew by, it really did. I enjoyed myself. I relaxed. I slept. I daydreamed. I contemplated my present and future and I finally made a few decisions I'd been putting off.
For fear of who may be reading this, I haven't been very open on this blog about my job the last few years. It was a good job in terms of money, flexibility and location. No complaints. But the work drama and pressure was all-encompassing and I believe contributed greatly to my out-of-the-blue crippling anxiety (my assertion, despite what my therapist says about it always being there), which I've been living with for the past year and a half. You would not believe the crap that went down and the personalities that I dealt with at work. I imagine, given current headlines, it was like working in the Trump White House. Except, of course, for the threat of nuclear war! Yet, I had health insurance and that's huge. So I soldiered on.
There have been several signs, since January, that I really needed to move on. Finally, fate pushed my hand. In April I was asked to go to part-time. I understood the request. As the Controller I knew the situation. I was reluctant because I'd lose my benefits, but still, to reduce the time I had to be there was tempting. I negotiated, and they agreed to keep me full time until I left on my road trip. Upon return, I'd work part time (and go on Cobra).
May was NUTS. Honestly, it seems like a different lifetime. It was that busy. All good stuff, end of year/season events, and yet no time to truly absorb it.
June was decadent and restorative. The summer road trip, likely our last "official" one, was glorious. We saw and did many amazing things and once again fell in love with our beautiful country. We were able to spend quality time together as a family with surprisingly little drama (an exception being a fight over which child would officially be "in California" (their 48th state) first). It was a sprint on the side of Interstate 5 and I thank God none of my children pushed each other into the highway in their quest to stake claim. The three best aspects of the trip: reconnecting with family and friends in faraway places; visiting many independent bookstores (blog post coming); and freedom from our everyday life. I won't bore you with 30 days of stories, but if your interested you can check out my Road Warrior Momma blog, or my pictures on Intagram.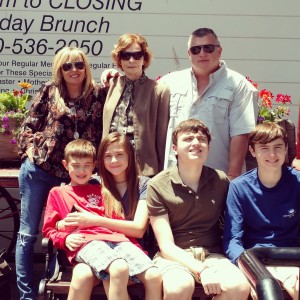 Lunch in Alameda, CA with Aunt Carol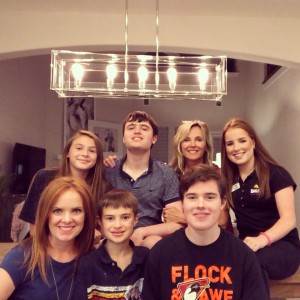 Visiting the Bernier family in TX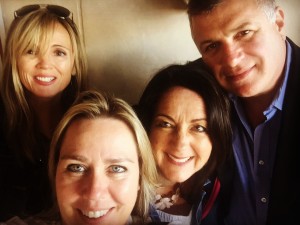 Hangin with my bestie from 7th grade on a visit to Concord, CA (with Rich and Kelly, too)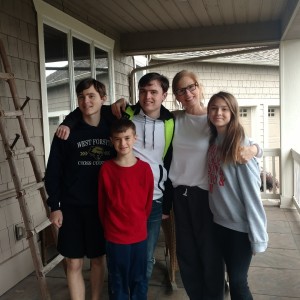 Hanging with Auntie Shell in Seattle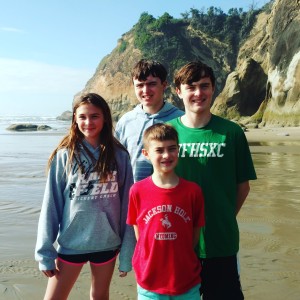 The kids on Cannon Beach in Oregon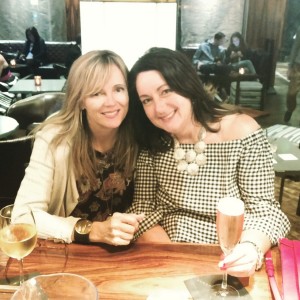 Cocktails with Auntie Kelly at the Sir Francis Drake in SF (surrounded by Debutantes – for realz)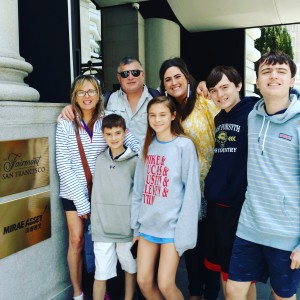 Visiting Breezy in San Fran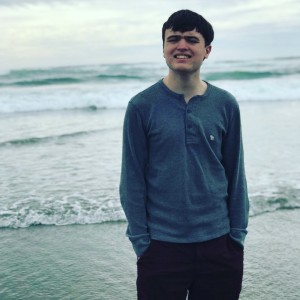 My handsome Bear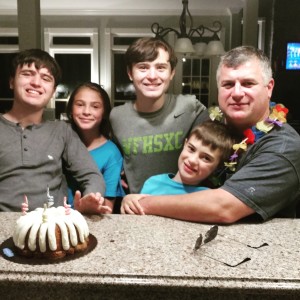 Celebrating Rich's birthday
One of the benefits of being "on the road" is all the time I had to think. Really think.  I finally concluded that I was done with my job. When I got back from our trip, I worked two more weeks and then moved on to the great unknown, with no plan in place and very little concern about what would come next. I resolved to let the universe guide me. Oh yes, I did just type those words😊.
July. What does one do in the summer when they become unemployed? They head to beach! We celebrated little man's birthday and relaxed in the Florida sun. We lucked out because we were there in the height of the red tide emergency and yet somehow, Captiva Island was spared (at least while we were there).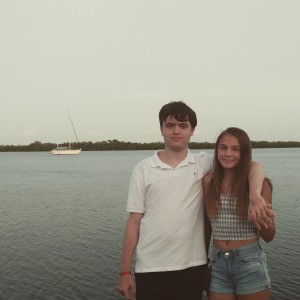 Audie & Bear on Captiva – our happy place!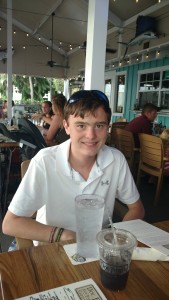 Huter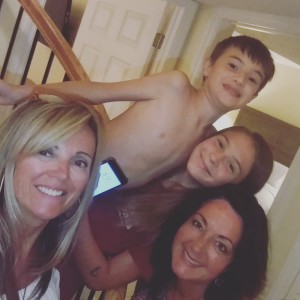 Family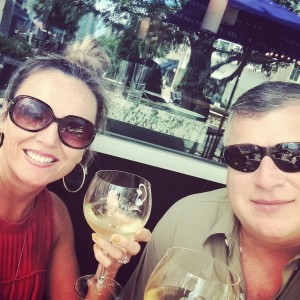 Summertime!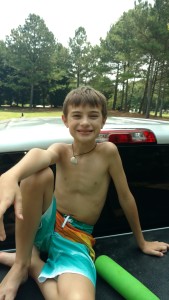 Cammers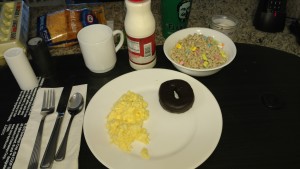 Cam's birthday breakfast, by request.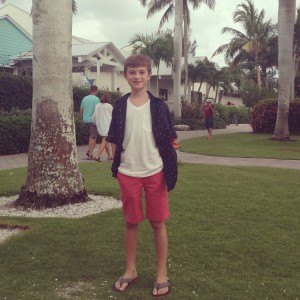 He's 11!!!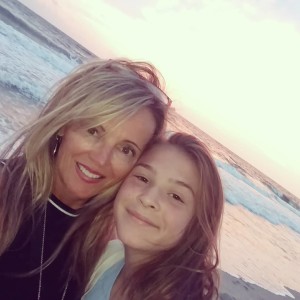 My girl ♥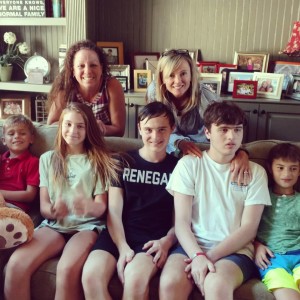 My cousin came with her little boy for a visit.
While in Florida, two interesting things happened. I got a call from my mother in-law asking me if I was interested in teaching (she works at Lincoln Memorial University in TN). "Sure!" I didn't even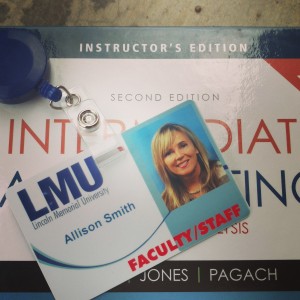 give myself time to think about it. I'm now an Adjunct Accounting Professor at LMU (teaching on-line). All it took was a Master's Degree and a little nepotism. I also got an email from a vendor for the company I'd been working for, asking me if I knew of anyone who wanted to work part-time. "Sure!" I'm now the Accounting Manager at a public relations firm, as well.
I'm telling you, reading all those Gabby Bernstein books last spring has paid off. The universe has my back!
August. Before I knew it, my kids were back in school (August 2nd!), and I was starting two new adventures. And, wait for it….time has flown by! I promised myself I wouldn't say that in this post – but my, it really has.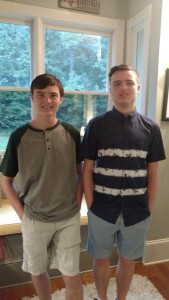 The twins. Hunter is a Senior, and Bear is officially in 10th.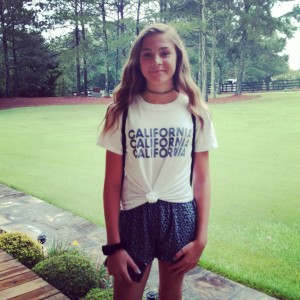 Audie – 8th grade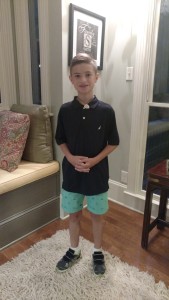 Cammy – 5th grade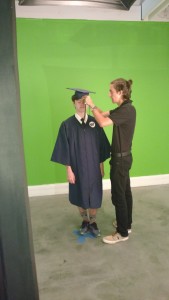 Hunter started his Senior year (snap from Senior picture session to the left) and is in the middle of his XC season. He retakes the SAT in October and then we begin applying to colleges. Uh-oh. Barrett had the most fabulous summer and is probably the happiest I have ever seen him. He started at a new therapy center this week, and will also be starting neurofeedback, in addition to his speech and OT. Who knows, perhaps the universe has his back, too.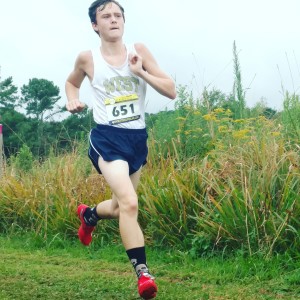 Hunter's cheerleaders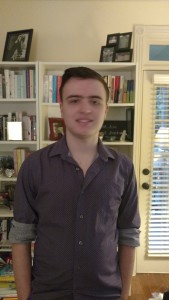 Bear's back-to-school haircut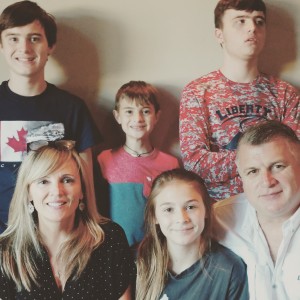 Audrey is in 8th grade and school is getting a little harder for her, especially given her busy social schedule that I'm about to implode (too much middle school loitering). She's taking three high school courses, so she's being challenged and therefore needs to re-prioritize. Dance starts in a couple weeks, and she's also started playing Lacrosse (something of which I know nothing – but it was her dad's sport). Her first game is this weekend. She turned 14 last weekend – and could barely handle celebrating with her family. The pulling away has started and it breaks my heart.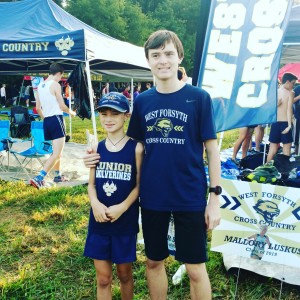 Little man is charming as ever and has taken up the cross-country torch. He's run in two meets and is in no hurry to quit. Fingers crossed he's able to do as well as his brother. We're officially done with karate and he hasn't looked back.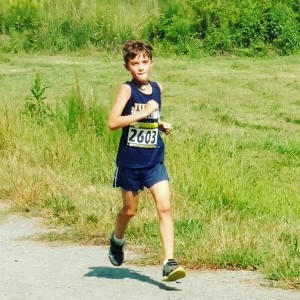 September. As I mentioned earlier, it's still really hot in Atlanta, so it feels like it's still summer – despite all the pumpkins (Kroger had a display of them on August 1st!!!! – picture below). I'm seeing and smelling all the autumn candles and lattes, but wistful for sand, salt and the scent of coconut oil. I'll get there, but I'd give anything to do this summer over again!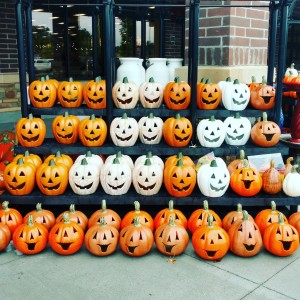 How was your summer?????