Hey There! Popping in with a quick post about this and that.
First, I have another book giveaway, which I personally always think is exciting! I had the privilege of reading an advance copy of Mary Kay Andrew's latest novel, The High Tide Club. Y'all know I'm a huge MKA fan. Last year I got to interview her for a Books of My Life post and I was invited to her book launch party (she lives in Atlanta). Thanks to her publicist, I have a copy to giveaway. All you have to do is leave a comment below. Keep reading though, after my brief review, I have other stuff to share.
Synopsis: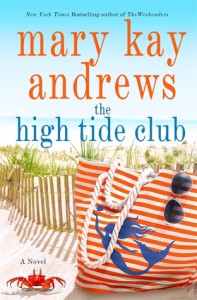 When ninety-nine-year-old heiress Josephine Bettendorf Warrick summons Brooke Trappnell to Talisa Island, her 20,000 acre remote barrier island home, Brooke is puzzled. Everybody in the South has heard about the eccentric millionaire mistress of Talisa, but Brooke has never met her. Josephine's cryptic note says she wants to discuss an important legal matter with Brooke, who is an attorney, but Brooke knows that Mrs. Warrick has long been a client of a prestigious Atlanta law firm.
Over a few meetings, the ailing Josephine spins a tale of old friendships, secrets, betrayal and a long-unsolved murder. She tells Brooke she is hiring her for two reasons: to protect her island and legacy from those who would despoil her land, and secondly, to help her make amends with the heirs of the long dead women who were her closest friends, the girls of The High Tide Club—so named because of their youthful skinny dipping escapades—Millie, Ruth and Varina. When Josephine dies with her secrets intact, Brooke is charged with contacting Josephine's friends' descendants and bringing them together on Talisa for a reunion of women who've actually never met.
Review:
The book is a little different from her last few, which were more light-hearted and funny. The High Tide Club is a fast-paced story that involves flashbacks to coastal GA and the "Jim Crow" south during World War II. There's an intriguing mystery, as well. The characters are all engaging, and fully developed – and the dialogue is sharp. So many elements of this novel – genealogy, racism, greed, morality, single motherhood, domestic violence, and friendship – make it an engrossing read. The only problem I had with the story was a plot point involving Brooke's son that didn't really sit well with me. Not judging, but I feel as though Brooke could have handled her situation better.
Reading:
I have been reading a lot. I feel like I've been getting back to the old me more and more. I'm still binging on self-help and books about anxiety, but they keep me on my path. You can check out my Good Reads 2018 Reading Challenge to see what I've been devouring. If you like political reads, Chasing Hillary is a MUST!
Work:
Ugh, you don't really want to know. But I sure am busy.
The Children: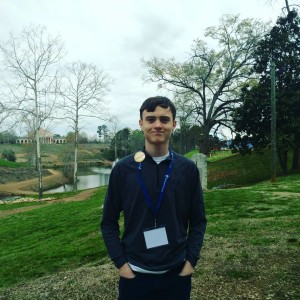 Spring has flown by. Today it was 91 in Atlanta, so I guess it's over and summer has arrived. Track season went by so fast, I barely remember it. Hunter finally earned a letter in Track (for Cross Country he has two) – the boy ran two miles in 10:58 seconds. Can you believe that? He's loving the freedom that his truck has provided him and I'm nagging him about a job. He has to have one by July 1st (because we're gone in June – more below) – or else no more driving. He's preparing for finals and I really, really hope he does well. He went on a couple of college tours over spring break, and I think it hit him that he needs (desperately) to get it together. I want him out of the house! Isn't that terrible? Not that I don't love him, but I'm afraid if he doesn't leave after high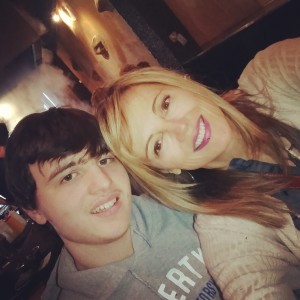 school, he never will.
Barrett did really well in high school this year. He has his new teacher (who I hope isn't reading this) totally whipped. He's been a good guy around the house, too. He's managed to shame us a couple of times by letting us know he understands everything that goes on in the house and does NOT appreciate being discounted. Lesson learned sweet boy.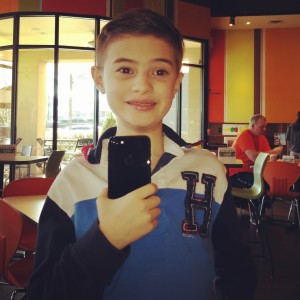 Camden also had an incredible school year. Everything finally clicked and I'm not sure who or what deserves the credit. But please, pretty please, let his streak continue. He's wrapping up karate, and I think we're taking break. He's reached the level where sparing is very much part of the deal – and my boy ain't a fighter. He's a lover. We're going to try the junior cross-country program this summer. I'm hoping lightening strikes twice.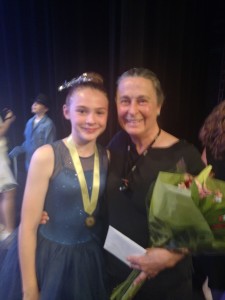 Audrey is wonderful too.  Sorry (I guess not really, but you know) that I keep saying the kids are great – they just have been lately. It's weird, actually. Anyway, Aud was inducted into and academic honor society and it was one of those moments when I wondered, where did she come from? Her dad is smart, but he claims he earned average grades in school. I got good grades, but had to work really hard to achieve them. This child never seems to have homework. May is recital season and we were busy. I made a deal to not talk about it, but I do have a picture to share, although it really is taking a risk.
GRONK:
Our latest and most exciting news was that we got to meet Rob Gronkowski last week. Believe it or not, we have a mutual friend. I didn't know this until recently. Gronk was in town filming a movie and we were invited to bring the kids down to the set to meet him. Truth be told, Bear was the hook, so Rob's officially a nice guy. A little shyer than I expected (I desperately wanted to ask him to bust out some dance moves, but had a feeling I'd be denied). He tossed the ball around with Hunter for ten minutes, gave Cammy a tour of his trailer, and signed everyone's shirt. Woot – woot!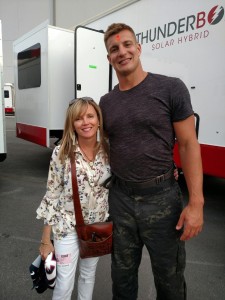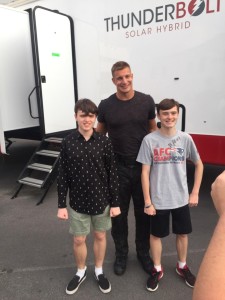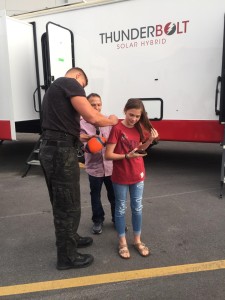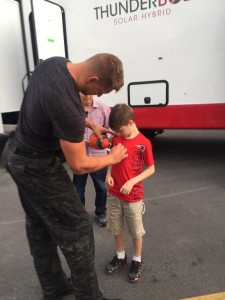 Mother's Day:
Mother's Day was perfect. I exercised, planted flowers, read in the sun, napped while Rich made me dinner and went to bed super early. I hope yours was too!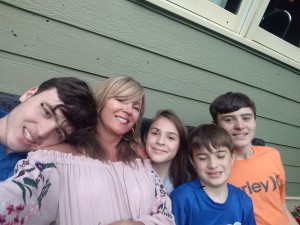 Summer:
Finally, we ARE going on our road trip this summer – heading the Great Pacific Northwest. I'm so excited. We leave in almost two weeks, and I'm not ready. I'm not going to worry about it either – like my new favorite song says, Everything's Gonna Be Alright!!!!!
Don't forget a to leave a comment to win a copy of The High Tide Club. I will pick a winner on Friday!